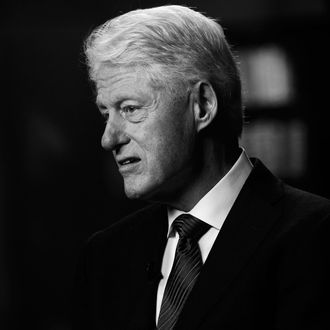 Bill Clinton.
Photo: NBC/NBCU Photo Bank via Getty Images
Just one day after Bill Clinton made tone-deaf remarks about the Monica Lewinsky scandal on the Today show, Stephen Colbert offered the former president an opportunity to re-answer the questions that got him in deserved hot water during the interview, which Clinton acknowledged wasn't his "finest hour."
On book tour for his novel The President Is Missing, Clinton and his co-author, James Patterson, have been making the expected rounds on talk shows, where they're publicizing the political thriller. Therefore, the former president was caught off guard on Monday when NBC's Craig Melvin asked him about the #MeToo movement, and if he had regrets over how he handled the aftermath of his affair with Lewinsky.
Clinton said that he "did the right thing" by fighting his impeachment rather than resigning, and that he did not owe Lewinsky a personal apology. After gently criticizing the comments, Colbert asked the former president if he wanted a "do-over," which Clinton accepted after faulting NBC's editing for the interview's messaging.
"It wasn't my finest hour, but the important thing is, that was a very painful thing that happened 20 years ago and I apologized to my family, to Monica Lewinsky and her family, and to the American people," Clinton said. "I meant it then and I meant it now. I've had to live with the consequences every day since."
He also said that he believes the #MeToo movement is "long overdue and necessary and should be supported."
So when will Clinton finally face his #MeToo reckoning?