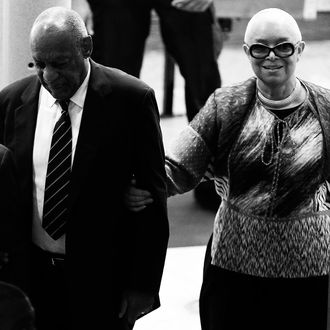 Bill and Camille Cosby.
Photo: David Maialetti-Pool/Getty Images
Wednesday afternoon, rumors circulated that Bill Cosby's wife, Camille, had moved out of her and her husband's suburban Philadelphia home and was thinking about filing for divorce — a report that Cosby's representative denied the next day, claiming that "there are no issues in the marriage."
The original source of the divorce rumor was Radar Online, which reported that Cosby was living alone in his mansion, and that Camille had relocated to one of the couple's chef-equipped homes in Massachusetts. In conversation with People, Cosby's rep Andrew Wyatt criticized the story as a "ridiculous story from an egregious publication."
"The accusations they have made in their tabloid are absolutely false," Wyatt said. "Mrs. and Mr. Cosby are not getting divorced and she's with him in the Philadelphia home as we speak."
The Radar Online and ensuing People reports come a month and a half after Cosby was found guilty of three counts of felony aggravated indecent assault. For the entirety of the nearly three-week-long trial, Camille stood alongside her husband, and when he was found guilty on April 26, she slammed the verdict as "mob justice."
According to Wyatt, who criticized Radar Online for allegedly failing to reach him for comment, Camille has no intention of leaving Cosby's side yet.
"No issues in the marriage, no issues with the children," he told People. "It's amazing how people can make things up."