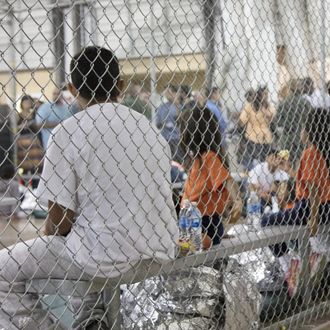 The processing detention center in McAllen, Texas.
Photo: RGV-FCB/Center for Border Protection
As people have become increasingly horrified at the treatment of migrants at the border, especially the Trump administration's family separation policy, Border Patrol has something important to say: please don't use the word "cages" to describe the actual cages in which they're keeping people.
This statement comes after photos were released of the country's largest immigrant processing center. Migrants are seen sleeping on floor mats and waiting on benches inside large, chain-link enclosures — otherwise known as cages — in the McAllen, Texas, detention facility.
Border Patrol then took issue with the semantics. "They are 'very uncomfortable' — in their words — with his characterization of the word 'cages,'" Gayle King reported on CBS This Morning. "They said it's not inaccurate but they're 'very uncomfortable' with using the word cages. They said they may be cages but they're not being treated like animals."
To sum it up: "yes, we're keeping migrants in cages, but saying that hurts our feelings."
What You Can Do Right Now to Help Fight Trump's Family-Separation Policy