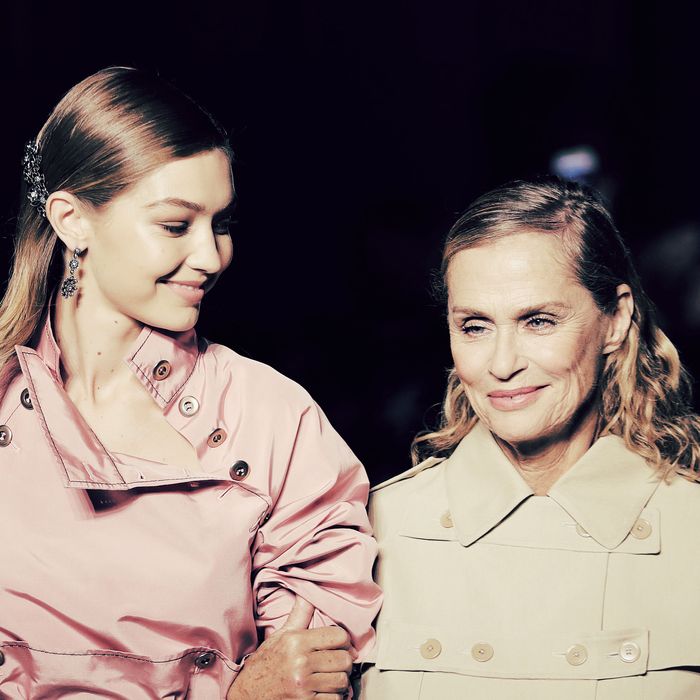 Gigi Hadid and Lauren Hutton at a Bottega Veneta show.
Photo: Vittorio Zunino Celotto/2016 Getty Images
Bottega Veneta has named former Céline director of ready-to-wear Daniel Lee as its new creative director. The news comes days after it announced that Tomas Maier would be leaving the company after 17 years.
Up until now, Lee has maintained a low profile at a number of historic design houses. Lee graduated from Central Saint Martins in 2011, the same year as street-style favorite Rejina Pyo. British Vogue called his senior collection a "wardrobe for warriors of the wasteland." Since leaving school, he has previously worked at Maison Margiela and Balenciaga, before heading to Céline under the former creative director and fashion-set favorite Phoebe Philo.
Lee said he was "both honored and excited to continue the legacy that has been created at Bottega Veneta over the last five decades. Maintaining the ingrained codes of the house, craftsmanship, quality and sophistication, I look forward to evolving what has gone before, while contributing a new perspective and modernity."
Lee may not be as big of a name (yet) as others rumored for the top job at Bottega, including Philo. But, as WWD pointed out, Bottega's parent company's chairman, François-Henri Pinault has a track record of hiring lesser-known designers to top houses, which worked spectacularly in the case of Alessandro Michele and Gucci.
Pinault said in a statement, "[Lee's] work is characterized by great rigor, a mastery of studio expertise, a true passion for materials and an energy that I cannot wait to see take shape at Bottega Veneta." We look forward to Lee reviving his warrior aesthetic, this time coupled with the fine Italian leather Bottega is known for.