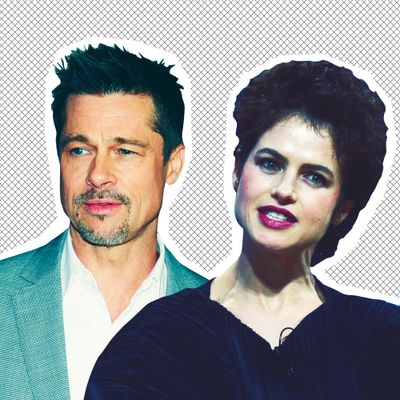 Back in April, tabloids began reporting that sculptor, two-time People's Sexiest Man Alive winner, and father of 67 Brad Pitt was making heart eyes at Neri Oxman, an architect and MIT professor whose lipstick is always on point. They were apparently "very infatuated with each other" and "talked on the phone several times a day," and it sounds like Brad Pitt spent a bunch of time wandering MIT in a lovesick haze. It was never entirely clear whether Pitt and Oxman were really together, but now, according to "Page Six", they are officially NOT.
This weekend, Oxman reportedly traveled to Paris to watch her boyfriend, billionaire hedge-fund manager Bill Ackman play in the Finance Cup, which sounds like a nerdy conference the Future Business Leaders of America would go to, but is actually a tennis "tournament in which former pro and top college players working full-time in finance face off."
(I thought that was the richest sentence I'd ever read in my life until I scrolled further down and read this: "Bill is impressively good for a guy who didn't even play tennis at university … but let's just say his plane is more valuable to the U.S. team than his backhand." Ah!!!)
Oxman and Ackman, who were rumored to be dating before her Pitt interlude, were reportedly extremely affectionate with each other this weekend, and attended a party together as a couple. One source told "Page Six":
Bill won his match, and has won the girl. Brad Pitt will need to up his tennis game — and his educational degrees — if he wants such a super impressive, and highly intellectual woman.
Will this heartbreak inspire Brad Pitt to renew his vow of celibacy?