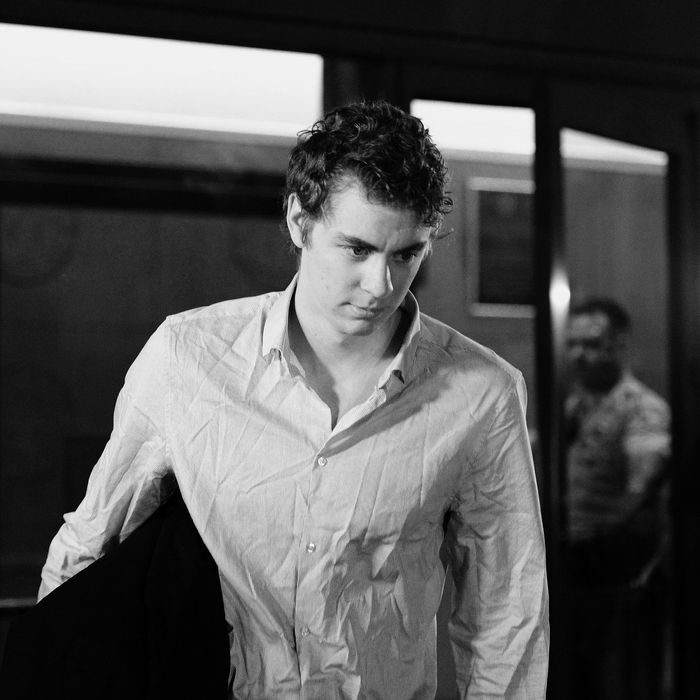 Brock Turner.
Photo: Dan Honda/Bay Area News Group/TNS via Getty Images
Today, the voters of Santa Clara County, California, will decide whether or not to recall Aaron Persky, the judge who sentenced Brock Turner to a mere six months in jail for sexually assaulting a 22-year-old woman behind a dumpster on the Stanford campus in 2015. If he is recalled, Judge Persky would be the first California judge to lose his seat on the bench since 1932.
After Turner's sentencing in 2016, Stanford law professor Michele Dauber led the effort to remove Judge Persky from his seat on the California Superior Court.
"Judge Persky has failed women in a very significant way, and the voters are going to hold him accountable," Dauber told the AP in May. "Many eyes are going to be on Santa Clara County as a model for how to respond to bias against women in the legal system."
The effort has prompted a reexamination of the sentencing of sexual-assault cases, and a heated debate on the balance of judicial independence and accountability. Here's everything to know about Judge Persky's recall election.
What did Persky rule in the Brock Turner case?
At around 1:00 a.m. on January 18, 2015, two Swedish students were biking around the Stanford campus when they saw Turner "thrusting" on top of an unconscious woman behind a dumpster. The students tackled Turner, who tried to escape, and held him until the police came. Police said the woman, known as Emily Doe, was "completely unresponsive," and had a blood-alcohol level three times the legal limit.
In March 2016, 20-year-old Turner was found guilty of three counts of sexual assault — two for digitally penetrating an unconscious or intoxicated person, and one for assault with intent to commit rape — and faced up to ten years in prison. During his sentencing hearing, prosecutors asked Judge Persky to sentence Turner to six years in prison, while the defense requested four months in jail, and probation officials recommended six months. Judge Persky ultimately sentenced Turner to six months in jail, saying, "A prison sentence would have a severe impact on him. I think he will not be a danger to others."
Judge Persky's lenient sentencing led many, like Dauber, to accuse him of "minimizing the harms of sexual assault."
"You took away my worth, my privacy, my energy, my time, my safety, my intimacy, my confidence, my own voice, until today," Emily Doe told Turner in the courtroom. "I am a human being who has been irreversibly hurt."
In the end, Turner only served three months behind bars. Judge Persky has declined to comment on the details of Turner's case, but he told the AP he has no regrets about his sentencing decision.
How did the call for a recall election come about?
Shortly after handing down Turner's sentence, Judge Persky was "reelected" to a six-year term on the California Superior Court. He ran without challengers.
In a recent interview with Vogue, Dauber said the idea to recall Judge Persky came about at a Hillary Clinton presidential campaign event.
"I said, 'Well, he's elected, I suppose we could recall.' But seriously, the recall came out of discussions among a group of politically active women in Silicon Valley who are large Democratic donors, particularly to women candidates," she explained.
What is Persky's reputation as a judge?
According to supporters of the recall effort, Judge Persky has a history of gender, race, and economic bias.
"We believe that the record is completely clear that Judge Persky has a long record of failing to take violence against women seriously," Dauber told the Los Angeles Times in December 2016.
Dauber's statement followed a ruling by the California Commission on Judicial Performance, which determined that there was "not clear and convincing evidence of bias, abuse of authority, or other basis" to remove Judge Persky from his seat.
Dauber dismissed this finding, calling it a "one-sided, closed-door procedure."
How much support has the campaign received?
Response to the campaign has been mixed. A Change.org petition to recall the judge received over 1.3 million signatures, and the measure received over 90,000 signatures to appear on the ballot on June 5. Dauber also told NBC News the recall campaign has raised over $1.2 million.
But the measure has been opposed by many legal experts. In August, 91 law professors, including 30 from Stanford, signed a statement opposing the campaign, saying it "threatens the fundamental principles of judicial independence."
"A fair and equitable justice system requires judges who dispassionately assess the culpability and background of offenders, without fear of public opinion, balancing the goals of retribution, deterrence, and rehabilitation," they wrote. "The recall campaign risks allowing public clamor to distort these crucial acts of judgment."
Who would replace Judge Persky?
In addition to choosing whether to remover Judge Persky from his seat, voters on Monday will also choose between his potential replacements: assistant district attorney Cindy Hendrickson, and San Jose civil attorney Angela Storey.
Back in February, Storey told Palo Alto Online that she opposes the recall vote, but will still run for Judge Persky's seat:
"We need a judge who's got a diverse experience in the legal field who understands not just criminal but also civil (case) and somebody who has a temperament to ensure everybody in that courtroom is going to be treated fairly."