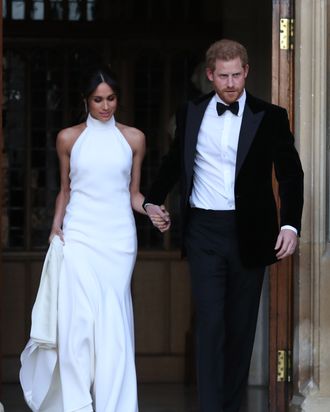 Meghan Markle and Prince Harry.
Photo: WPA Pool/Getty Images
While Meghan Markle looked stunning in a Clare Waight Keller for Givenchy gown during her royal wedding to Prince Harry on May 19, it was the newly minted duchess of Sussex's second wedding dress of the day — the Stella McCartney gown she wore to the ultraprivate reception — that we haven't been able to get out of our minds ever since. But sadly, Markle's reception dress was custom so no one else has been able to buy one just like it … until now.
According to the Telegraph, Stella McCartney is now selling an identical dress to Meghan's reception gown at her new flagship London store. But sadly, there will be a limited number of these dresses at the moment: the designer is only producing 46 replicas of the gown — that's 23 in white and 23 in black — as part of McCartney's "Made With Love" capsule collection (because the address of her new flagship is 23 Old Bond Street). Each will cost around $4,656.
And unfortunately, there's even more of a catch beyond the limited quantities. In order to get their hands on one of these dresses, prospective clients need to email the store at 23oldbond.store@stellamccartney.com — the store's address — and set up an appointment. That's because the dresses will be kept in an exclusive exhibit in the store.
But in case that sounds like way too much effort for you — maybe, like us, you can't hop on a plane to London to snag one before they all sell out? — there is some good news, thank god. A spokesperson for Stella McCartney told the Telegraph that the "Made With Love" capsule will actually be expanded into a bridal collection next spring.
So there's still hope that you will be able to recreate Meghan's look at your own wedding/formal event/laundry run/every day since you will never take the dress off ever. Hurrah!
This post has been updated to show that the number of dresses reflects the address of Stella McCartney's new flagship.