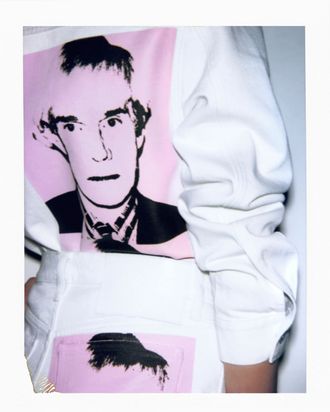 Photo: CALVIN KLEIN JEANS CKJ 030 High Rise Straight Jeans + Classic Trucker, Printed artwork: Andy Warhol, Self-Portrait, c. 1982, ©/®/TM The Andy Warhol Foundation for the Visual Arts, Inc.
The love affair between Calvin Klein and Andy Warhol continues. Calvin Klein 205W39 has put Andy Warhol's paintings all over its collections for the past couple seasons, but now those of us who can't afford runway prices can get in on the subversive fun. Calvin Klein Jeans is rolling out a capsule collection in collaboration with the Andy Warhol Foundation featuring the artist's self portraits on jeans, tees, and sneakers. The best part is that it's priced between $49.90–$179.90.
Warhol's self-portraits were done the year before he died. The eerie works of art are screen-printed on canvas (unlike his famous Polaroids) in neon colors. The originals live all over the world in museums and galleries, but unique renditions could be hanging in your closet for under $200.
The Calvin Klein Jeans collection will be available starting on June 7 on the Calvin Klein website. Scroll on to see more of the collection.