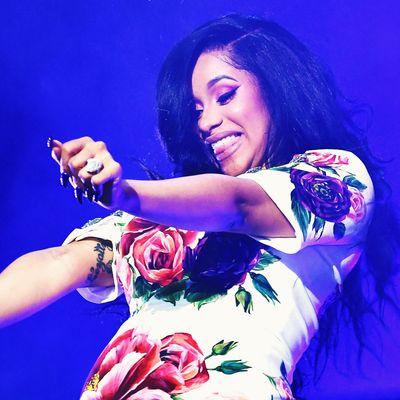 Cardi B.
Photo: Paras Griffin/Getty Images
The world is mere weeks away from welcoming the Bardi Baby, and to celebrate Cardi B and Offset threw a baby shower in Atlanta on Tuesday. It was "A Bronx Fairy-tale"–themed, and looked like more fun than most people's bach parties, let alone baby showers.
The Bardi Shower, as the napkins proclaimed it, included huge displays of pink roses, giraffe topiaries, a throne where Cardi and Offset posed together for pictures, and a Bardi Baby Bodega.
In her and Offset's interview with Rolling Stone this month, Cardi told the magazine she didn't want a regular old baby shower:
"I want a lit baby shower. My baby shower's not starting at no 5:00. My shit is going to start at 9 p.m. because that's how I celebrate, that's how Caribbean people celebrate. I don't like baby showers that be at 5 p.m. in the backyard, cooking, eating hors-d'oeuvres. Nah. Shit, I might even drink some red wine! Red wine's healthy, right?"
Earlier this week, Cardi confirmed to the "nosey fucks" out there — through the trusted celebrity medium of the Notes app — that, although Offset proposed to her onstage in December 2017, the two have in fact been married since September 2017.
"There are so many moments that I share with the world and then there are moments that I want to keep for myself! Getting married was one of those moments!" she wrote. Thank God the baby shower was not.