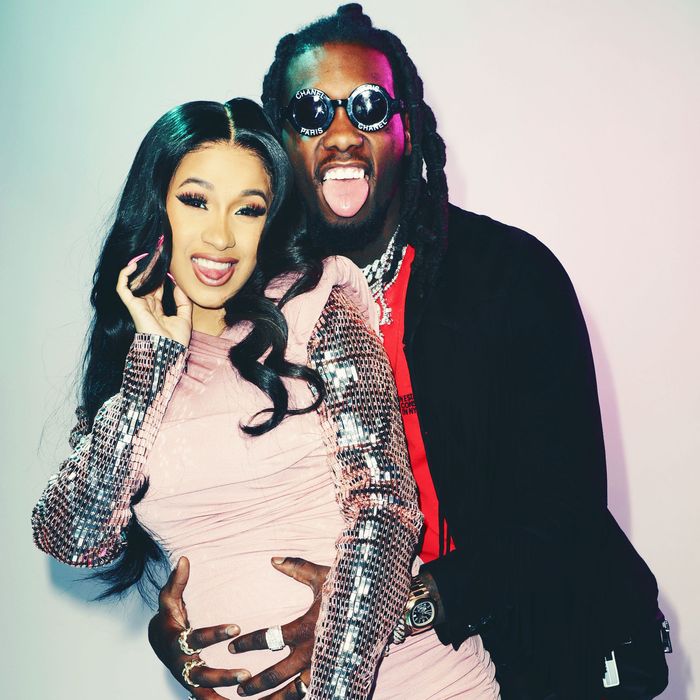 Cardi B and Offset.
Photo: John Parra/Telemundo/NBCU Photo Bank via Getty Images
Cardi B has a message for all of us "nosey fucks" out there: Yup, she and Offset are already married.
The Migos rapper proposed to Cardi B with a massive eight-carat diamond ring onstage during a Philadelphia concert back in October, so we all assumed they were merely engaged. But we should have known better. Just like the "Bodak Yellow" rapper did when she kept her pregnancy a secret — remember "let me fat in peace"? — it turns out, she did the same with her marital status.
Shortly after TMZ reported early Monday that the couple secretly married in September (which means they were already married at the time of their public engagement), Cardi took to her Notes app to confirm the surprising news:
"There are so many moments that I share with the world and then there are moments that I want to keep for myself! Getting married was one of those moments!" Cardi B wrote. She went on to explain that their relationship involved a lot of "breaking up and making up" and that they both had "a lot of growing up to do," but they woke up one day in September and decided to formally tie the knot.
"We found someone to marry us, and she did, just the two of us and my cousin," she continued. "I said I do, with no dress no makeup and no ring."
Cardi added that she was "grateful" that her husband gave her the "special moment" of later getting down on one knee to propose. She added, "Well now since you lil nosey fucks know at least ya can stop saying I had a baby out of wedlock."
Congrats to the happy couple!