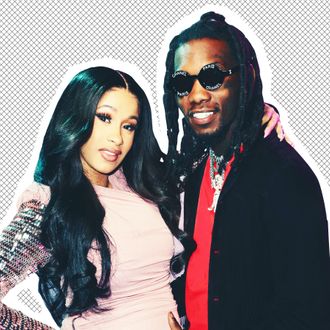 Photo: John Parra/Telemundo/NBCU Photo Bank via Getty Images
If you're anything like me, you've probably thought more about Cardi B, 25, and Offset's, 26, romance than you've thought about where your next hot meal will come from. And, with the recent revelation that the couple has been married for about eight months, we the "lil nosey fucks" demand answers regarding how we missed this milestone. And, as a professional nosy little fuck, it only empowers me to dive even deeper into their relationship. Join me, as I detail the tumultuous love affair of Cardi B and Offset — the millennial relationship of your dreams — where every up and down is dutifully recorded on Instagram.
It All Started With a 'Lick'
Cardi B and Offset didn't make their romance official until 2017, but it appears as though the couple first met while collaborating on the track "Lick" in late 2016. In a video posted on Twitter (that's since been deleted, but the receipts of course live on), Cardi said that when she met Offset in the studio in 2016, he "was very consistent … He really wanted to talk to me." Cardi didn't take his advances seriously at first because she "felt like, you know, this rapper trying to fuck and everything."
In the Beginning, God Created the Group Date
In early 2017, Offset was still so smitten with Cardi that he had his publicist reach out to her people to organize a night out on the town. In a 2018 Rolling Stone profile of Migos, Offset admitted that while he was hoping to vibe with Cardi on the night in question, he still had a few other women he wanted to take out as well. Thus, the fanciest group date in hip-hop history was born. According to Rolling Stone, he had a publicist set up a dinner in New York for a select group of women, including Cardi (how nice?). Their first real date wasn't until the 2017 Super Bowl in Texas, which Cardi broadcast on Instagram Stories. Offset also livestreamed the date, which goes to show that he enjoys documenting intimate moments, which we'll get to later.
Insta-Official?
On Valentine's Day of 2017, just nine days after their first date, Cardi made her relationship with Offset Instagram official. Under a mini-throwback video of their time at the Super Bowl, Cardi showed her love by captioning the video, "Oooh hey babe 💋." Cardi cleared out her Instagram account, so the post is no longer there, but she did leave a tweet up from this day confirming that Offset loved how "nasty" and "hood" she is.
The Sound of Silence
During the March to May period of 2017, Offset and Cardi B seemed to cool off their public affection for one another. In March, Cardi B told Fader, "I'm not saying I'm dating an Atlanta guy," referring to Offset, who is from Lawrenceville, Georgia. Then, in April, Migos was interviewed by Tim Westwood, and when asked about his relationship with Cardi B, he refused to give a direct answer. But when Cardi B sat down with Westwood herself on April 16, she sort of confirmed that she an Offset were an item once again, saying, "Yes. I mean, I see the boy. We're real gangsters."
I Just Haven't Met You Yet
A year before both respectively shutting it down on the 2018 Met Gala red carpet, Cardi B and Offset attended the after-party. She wore a sheer dress and he wore a velvet turtleneck! This was on May 1, 2017, and on May 16, 2017, the video for their single "Lick" officially dropped.
Don't BET on It
After that public display of affection, Cardi B and Offset seemed to have taken a turn in their relationship on June 25, 2017. At the BET Awards, they chose to walk the red carpet separately, which is a blessing in disguise because had they walked together, we may not have gotten this iconic interview with Migos and BET's DJ Akademiks and Joe Budden. At the time, a source at Hollywood Life said of Offset and Cardi B, "They're still talking to each other, but it's complicated."
Came Through Dripping
Just days after their "complicated" appearance at the BET Awards, Cardi and Offset really seemed to confirm that they were both very much in love, or at the least, very rich, with a $50K shopping spree in Beverly Hills. This was on June 29, 2017. Then, about a month later on July 27, 2017, Offset gifted Cardi with a custom $60K diamond chain.
With This Ring, I Thee Wed?
After dropping at leask $110K on Cardi during the summer of 2017, Offset and Cardi sparked engagement rumors that following August. The couple was seen shopping around for engagement rings in Atlanta on August 22, 2017. On August 29, 2017, Cardi and Offset didn't walk the MTV VMA red carpet together, but she did shut down engagement rumors while doing a preshow interview with Charlamagne tha God. Despite wearing a white ensemble and having gone engagement-ring shopping days prior, Cardi told Charlamagne, "Does you see a ring on my ring finger?" and then, "I'm a woman. Every woman, I think, wants to get married and wants to have children. It's never too early to get married now. You know, if you want to propose to me, you can."
The Formative Month: October
On October 11, 2017, though Offset was out of the country for Cardi's milestone 25th birthday, he posted a sweet message to her on his Instagram with tons of heart emojis. This seemed to be proof that things were going well, but weeks later, Cardi B hinted at the fact that she was currently single in a now-deleted Instagram with the caption "peace nikka." Cardi also posted a revealing Instagram Story with the word "single" written across her bosom. But on October 22, 2017, She wrote an Instagram Story with a photo of Offset, reading: "So listen babes, I exaggerated alil bit earlier cause I was really upset and the Bronx girl in me always have to go to the extreme. I came to me sense now. I'm sorry … waffle house on me?" She also confirmed the reconciliation on Twitter, "Naaa but on a serious note I really loveeeee my man 💏he was gifted to me from Jesus ❤️." They reconciled, but fans were still in the dark about what had gone down between them.
After their reconciliation, Offset and Cardi B released their second collaboration "Motorsport." This time, Nicki Minaj joined along with the rest of Migos, Takeoff and Quavo. This track was released on October 27, 2017. And two days after this, on October 29, 2017, Offset publicly "proposed" to Cardi B during her Philadelphia concert. He gave his ladylove a 20-carat diamond ring that's frighteningly similar to humanitarian Paris Hilton's.
Winter Came
Continuing their now very public love affair, Cardi B released "Bartier Cardi" on December 22, 2017, which mentions Offset's name 16 times in the track. Fans who had been following their love for almost a year took issue with her obsessive use of her fiancé's name, and of course, Cardi hit back on Instagram Stories and said, "If I wanna put my man name on all my songs soooooo fuuuuuuckkiiiiinnnng what! … Im his biggest fan … Imma mention his name even in my prayers bitch! Sh*t when Im about to die last word out my mouth is Offset."
A few days later, on Christmas Eve specifically, Cardi B got the worst Christmas gift ever: video proof of Offset cheating on her in September 2017. This explained why Cardi B claimed to be single back in October! This video was stolen from Offset's iCloud, and the following day, Christmas, nude videos of Cardi leaked as well. Publicly, Cardi wasn't too torn up about her nude photo leak and the cheating scandal. She tweeted on Christmas, "I still put the pussy on offset 🤷🏽‍♀️Bartier Cardi," and then, "People keep posting the nude videos of me like if i wasn't a stripper before 😩😩😂🤷🏽‍♀️You know there's videos of me stripping with my titties & ass out on YouTube already right 😂?anyways i know i know i got a nice body right 😎"
On December 26, 2017, Cardi and Offset seemed to have enjoyed their holidays all too well because they were then accused of having sex on an Instagram live. To really drive home the fact that she and Offset were still an item, Cardi did yet another Instagram live defending her choice to take Offset back, telling fans, "You live and you learn." But, on December 29, 2017, Cardi B introduced a song with a message to Offset, "I let a nigga know though … you pull that shit again, you gonna lose your wife." Interesting choice of words given what we know now.
Cardi (re)B(uilding)
Cardi and Offset used the new year of 2018 to work on their relationship. On January 9, 2018, she tweeted and deleted this message to her fans, "Why is it a problem that i want to take my time with a decision on my relationship? … why do i have to explain myself? I don't ask ya why you still with that man that lives with his mom, that don't pay your bills … Since when you guys had perfect relationship?"
After these tweets, Offset recommitted to Cardi B by getting her name tattooed on his neck on January 14, 2018. In the same Rolling Stone interview mentioned above, Offset admitted that he and Cardi were doing well, but don't expect the newly engaged couple to walk down the aisle anytime soon. They were apparently "too busy," to even think about that then.
Happy First Anniversary
In February 2018, about a year after the hip-hop couple made things official, Cardi B told Cosmopolitan that Offset wasn't solely to blame for the troubles in their relationship, "It's like everybody is coming down my neck like, 'Why are you not leaving him? You have low self-esteem.' I don't have low self-esteem … I know I look good. I know I'm rich, I know I'm talented. I know I could get any man I want — any basketball player, football player. But I want to work out my shit with my man, and I don't got to explain why. I'm not your property. This is my life … I'm going to take my time, and I'm going to decide on my decision … It's not right, what he fucking did — but people don't know what I did, 'cause I ain't no angel."
Shortly before this interview was published, Cardi asked the internet to let her "fat in peace," after she was accused of being pregnant. This was in early February; however, it later came out that Cardi was in fact pregnant with Offset's offspring, and due in early July.
Surprise Night Live!
After months of speculation, Cardi B revealed her pregnancy during her Saturday Night Live debut on April 7, 2018. In a formfitting white gown, there was no denying that Cardi was expecting a BB. Not that there was any question, but Offset confirmed that the baby was his in a celebratory tweet of his own.
Interestingly, Cardi chose to reveal her pregnancy while singing her hit song "Be Careful," dedicated to a cheating Offset. Lyrics include "Be careful with me, do you know what you're doing? Whose feelings that you're hurting and bruising? You gon' gain the whole world but is it worth the girl that you're losing?"
We MET Again
For this year's Met Gala, Offset and Cardi B were a happy couple, in love, but walking the red carpet separately. Cardi wore a Jeremy Scott original, while Offset and Migos wore Versace. The couple ended up having fun during the May 7 event, even despite the red-carpet hiccup and assault charges their team earned for allegedly attacking a fan.
Where Are They Now?
It seems the couple is more in love than ever, even appearing on their first joint cover together for Rolling Stone. Offset kisses Cardi's bare pregnant belly for their July issue. This week, Cardi and Offset admitted that they are in fact MARRIED already! Despite Offset's October proposal, the couple actually wed in a bedroom ceremony in September 2017. On June 25 Cardi tweeted a lengthy confirmation, defending their marriage. After waking up one morning during their tumultuous relationship, Cardi says the couple looked at one another and decided to get married right then and there, with only Cardi's cousin as a witness. Cardi does still have the upper hand over the media because our Invasion of Privacy proves that she is not having a baby out of wedlock, as she and Offset conceived their baby girl while married. All of this came out simply because Offset referred to his pregnant bride as his "wife" during the 2018 BET Awards on June 24, 2018.
Who knows what we "lil nosey fucks" will continue to find out as Cardi and Offset's relationship continues on!