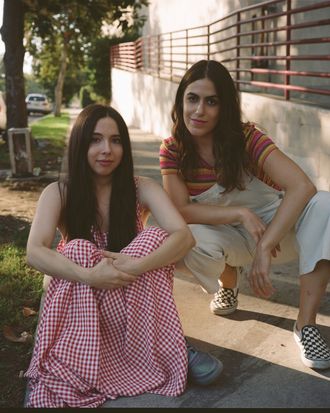 Esther Povitsky and Caroline Goldfarb.
Photo: Beatrice Helman
As far as we know, there's no actual contest to be the funniest people in beauty, but if there were, comedians Caroline Goldfarb and Esther Povitsky would win it hands down. Goldfarb and Povitsky run the Glowing Up podcast, a weekly show where guests like Tavi Gevinson, Rachel Bloom, and Lee Tilghman weigh-in on makeup, skin care, and all things glowy.
At a time when so much about beauty seems self-serious or fear-based, Glowing Up's podcasts are a joyful romp. Goldfarb and Povitsky seem to take real pleasure in discovery, geeking out over serums, taking Ayurvedic quizzes, and revealing their favorite products from their Sephora VIB hauls. The Cut talked to the two about being in the middle of the comedy/beauty Venn diagram.
What was your "meet cute"? How did you guys meet?
CG: We first met at a '90s dance night in Silverlake, which turned out to be something we both had in common.
EP: It was a religious experience for me, and clearly for her too. We met and hung out and then separated. I did a show of my own [Alone Together] that got picked up, and we were looking for writers. I read Caroline's submission and it was so good. Everyone just agreed. And then I realized it was the same girl from Female Pop night!
CG: We started to to realize we were both obsessed with makeup during the Kylie launches.
EP: We would be in the writer's room checking on the new launches.
CG: We were refreshing the website to see if Cotton Candy Cream color was available. That's partly when I realized that this girl was as obsessed with makeup culture as I was. We're like teens about it.
EP: I was obsessed with this Lush Sleepy lotion that was only available during the holidays. I talked about it in the room obsessively and they all looked at me disinterested. But I could see a little glimmer in Caroline's eyes.
CG: Then one day, Esther came in and said she got all the girls in the room a surprise. She was going on and on about how she saved up for this one-day Christmas sale and bought everyone this special lotion. All my synapses were on fire. Like This girl is my soulmate.
How did you start doing the podcast?
CG: We each had our own podcasts. Esther's was Weird Adults. Mine was This Week Had Me Like. My podcast required a lot of research and work, so I was interested in doing one that was just showing up and talking. The timing was just right. Our podcast is really about paying homage to the beauty world, mixed with comedy. We are the only comedy beauty podcast.
I'll look at wellness influencers who are so stunning and be like, It's not achievable. It makes you feel bad about yourself. We are proud and loud; we aren't like that. But don't get me wrong: we know our stuff. We keep up with the trends, but we're also garbage monsters who want to be like the beautiful, lit-up goddesses we know we are on the inside. We live in the duality. Get your girls who can do both — be disgusting and hot.
Does the lack of reality on Instagram bother you?
CG: I think we are as real as it gets. Sometimes, we're too real. Listeners know that it's unrelenting discussion — we're always talking about our weird body crests and my struggle with acne. I can't share that struggle enough. It's just part of who we are. I love when girls post pics of their fat rolls or when they post pictures of their "messed up" skin. At the end of the day, that is the best. When I see girls post their skin with acne, it's so rare. It makes me feel less alone.
That being said, I love seeing Bella Hadid throw up some airbrushed, hyper unreal picture on a yacht. I love that too. I want to see Bella with tiny glasses.
You both love beauty. How do you differ in your approaches?
CG: We both love the same things but have completely opposite angles. We never want the same color, we never like the same boy. I love fragrance but Esther doesn't.
EP: I wanted [the Fenty beauty highlighter] Mean Money; she likes Trophy Wife.
CG: Our friendship almost ended over a limited-edition Pat McGrath product.
EP: When those came in, there was tension in the air when we were splitting it up. We tried on every single color and worked out logistically which looked best. My boyfriend was watching us, and I think he lost respect for us that day — we were, like, screaming and crying about matte lipstick.
You've interviewed so many people and experts. What is the most valuable beauty advice you've learned?
CG: My skin is always at the forefront of my mind. I've learned so much about good skin care and the necessary steps. I've gotten into Korean beauty and serums. Sometime after starting this, I started doing Vitamin C serums. I wanted to preach that far and wide.
EP: Double-cleansing. If I have a full face of makeup, I have to do an oil cleanse and then use a regular cleanser. That helped me tremendously with my skin. I would have never thought to do that before doing this podcast.
As beauty lovers, what do you think about skin care as a trend?
EP: It's part of the Instagram boom. We have access to so many more voices in the community, which is what has amped it up. Not everyone wears makeup, but everyone uses skin care.
CG: I've learned that skin care is an integral part of self care, like the way Korean women teach their kids about different steps. It's not only a luxurious thing, but something everyone can do. Learning to properly take care of your skin from a young age is part of health. It's not just an indulgence; it's a health practice.
I love your podcast because it's funny and informative and I think it really celebrates the joy in beauty. But I think there is some shame right now in our culture associated with liking beauty — with it being vain or superficial.
EP: I hate when people talk about beauty like that — it's so incorrect. I find it to be relaxing. It's a hobby and a fandom to me. It's not different to me from people who love sports. It's no more vain than things like Dungeons and Dragons. It's a safe place to have an area that you enjoy. It's a community. It's a conversation-starter and a way to connect with other women.
CG: Some of the best friendships were based on conversations sparked at a party. I love your highlighter, I love that brand. Through it, I get to meet fellow beauty nerds. It's like when guys talk about free throws and Stephen Curry; this is my thing.
It can also be part of the time-honored tradition of being a woman. For me, I get it from my mom. It's so deeply embedded in me. I can point back to my first eye shadow and products. I've been wandering the aisles of Rite Aid since I was little.
EP: The sexist way to looking at it is, Girls just want to look pretty. It really is our thing. We have ownership over it and take pride in it. It's not for you; it's for us. We do it for ourselves. That's the big important message.
There are some products people talk about over and over again. As a beauty enthusiast, do you feel betrayed when you try something and find out it's not that great?
EP: No, that never bothers me. Everyone is so different. I see it with Caroline: She might love a product, and I just don't. The biggest lesson in life and skin care is that not everything is going to work for everyone.
CG: I live for those tiny Huda Beauty Obsessions eye-shadow palettes. I can't get over the perfect size (so small! perfect for travel!) and the color payoff (buttery! pigmented! amazing!). I have the Warm and the Electric ones, but I'm also eyeing the Coral pretty hard.
EP: I love experimenting with different mineral sunscreens. I'm always searching for great mineral sunscreens that don't leave your face with a white cast!
EP: I love this formula — it's matte but doesn't feel too dry. It's also really hard to find a flattering shade of purple lipstick and this is it.
EP: This is my all-time favorite drug store purchase. It's a great bronzer and it has the best coconut summer smell!
If you buy something through our links, New York may earn an affiliate commission.