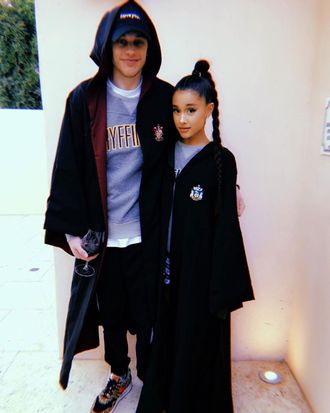 Pete Davidson and Ariana Grande.
Photo: Instagram/Pete Davidson
As the old saying goes, if you want to date a famous person, just get a job at SNL. Such a romance is happening at the moment for repertory player Pete Davidson, when it became public last month that he and his long-term girlfriend Cazzie David — daughter of Larry — broke up so he could seemingly begin dating Ariana Grande instead. He and Grande have since been acting generally cute on social media thanks to some well-timed Harry Potter dates and other youthful shenanigans, with David choosing to go on a social media blackout in the interim. But she's now back, and has a simple Instagram message for everyone questioning her sanity: "Been in Africa, what'd I miss?"
We'll tell her what she missed: Davidson already got two tattoos dedicated to his new girlfriend. Dangerous Woman bunny ears, and Grande's initials.
Millenial love is nuts.