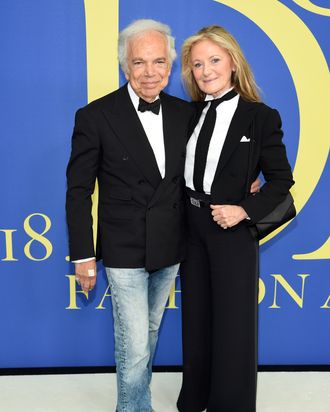 Ralph Lauren and his wife, Ricky Anne Loew-Beer.
Photo: Dimitrios Kambouris/Getty Images
Ralph Lauren had a great night out in Brooklyn on Monday.
At this year's CFDA Awards, the 78-year-old designer was presented with a special "members' salute," which consisted of a gold trophy and a standing ovation from his peers. He was surrounded by the best-dressed people in America, as well the new talents who make them look so good, but in his tuxedo, jeans, and sneakers, Ralph "the God" Lauren was still the most modern-looking man in the room.
Ralph gave us all the trends. In keeping with the black-tie dress code, he was party on top, but dadcore in the middle, wearing a pair of faded blue jeans that he cuffed at the bottom. His neon-green Salomon trail running shoes were the highlight, though, and a departure from his signature cowboy boots. This is how you do gorpcore, kids! Take notes.
"I love what I do," Lauren said when he accepted his honor. We couldn't agree more.