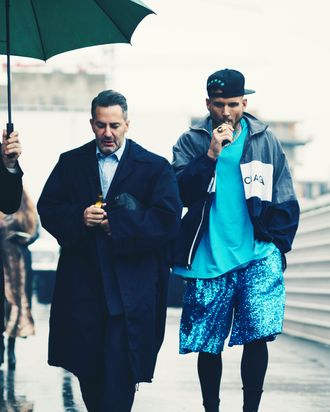 Marc Jacobs and Char Defrancesco.
Photo: Matthew Sperzel/Getty Images
If you follow the life and times of Marc Jacobs on Instagram, you'll probably recognize a tattooed, muscular young man named Char Defrancesco, who's almost always by his side wearing Balenciaga and holding a vape in his hand.
The two started hanging out in public around three years ago, and as of April, they're engaged to be married. Jacobs proposed to Defrancesco with a flash mob at Chipotle, getting down on one knee in the middle of the restaurant. Why? Because it's Defrancesco's favorite spot.
Beyond Chipotle, Defrancesco has a taste for the finer things in life, from Balenciaga Triple S sneakers to coconut wax candles, which he makes himself under the moniker Get Lit by Char. Currently, there are two scents for sale on his website: "Bae" and "Lit" — the latter being an original, and quite winning, combination of agarwood and hashish. I know this because I follow him religiously on Instagram, too, and maybe cried while watching his Chipotle engagement video.
Despite Defrancesco's growing fan base, there is little information out there on him. Who is this Swiss-born, Italian candlemaker with a love of ugly designer sneakers? Below, he answers the Cut's questions about taste.
What's your dream vacation?
The places to visit and things I want to do the most are right here at home — hanging with my friends, family, and dogs (not necessarily in that order.)
Something you can't travel without?
Kiehl's Cactus Flower & Tibetan Ginseng Mist. (God, I hope this lands me some product because I've been traveling a lot lately.)
Is there anything you would never wear?
Those toe shoes. They really creep me out.
Big sunglasses or tiny sunglasses?
I have a pretty big face so I need a lot of coverage.
Fanny pack or backpack?
Utility belt? As much as I love a good fanny, I've come to the conclusion that I like them better on other people.
T-shirt or tank top?
Depends on how I'm feeling about my body and how strong my tan game is.
What is a trend that you like right now? One you don't like? I'm really into those Chaos phone cases right now. I'm not into crazy Snapchat and Instagram story filters that turn eyes into anime eyes, and give you any kind of halo, animal ears, or makeup.
What's the secret to throwing a good party?
I can tell you the secret for a good surprise party: tricking the person who the party is for into unknowingly planning their own party.
Three songs on your workout playlist? 
1. "Forever" by A$AP Rock (feat. Moby)
2. "Lemon - Drake Remix" by N.E.R.D. and Rihanna
3. "The Jump Off" by Lil Kim
What's the last show you binge-watched?
Killing Eve!
Instagram account that makes you laugh?
@Earlboykins.
What's your Chipotle order?
I always switch it up, but currently I've been into a burrito with quinoa, chicken, corn, and spicy salsa.
What's your favorite…
Candle scent?
Lit, obviously. Hashish and Agarwood is the only scent that I don't get sick of.
Vape flavor?
Sticky Buns with a menthol squirt.
Watch?
Probably my Rolex Presidential. It can really take a beating. I'm pretty rough with my jewelry.
Earrings?
Diamond studs from Ben Baller.
Suitcase?
Well, it's never just one. Currently using Louis Vuitton x Supreme, and Rimowa x Supreme.
Hat brand?
DiSnapback.
Sneakers? 
Sneaker trends come and go, but I always stick to the classics: dirty Chuck Taylors and Nike Air Jordan 1.