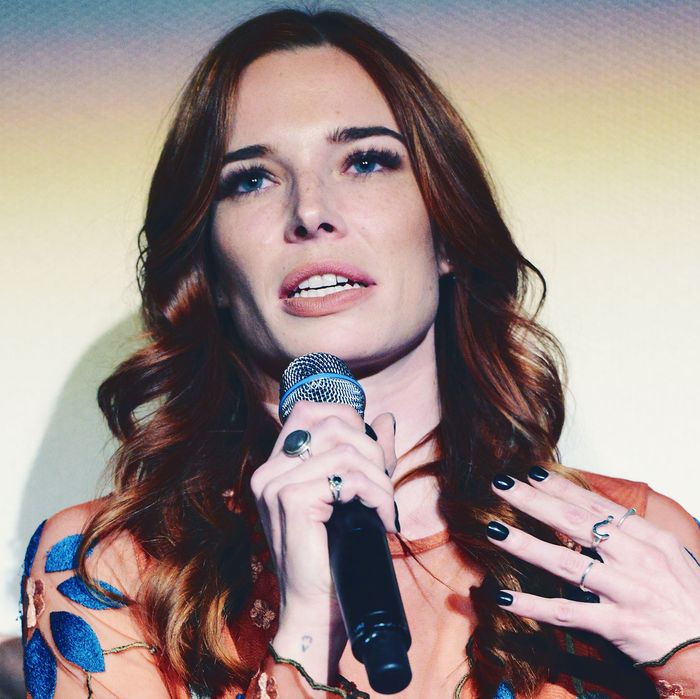 Chloe Dykstra.
Photo: Albert L. Ortega/Getty Images
On Friday, actress and model Chloe Dykstra accused a powerful ex-boyfriend of years of sexual and emotional abuse in a harrowing post on Medium. Dykstra, who hosts Nerdist Industries' Just Cos web series, declined to name her abuser, though she did state that they dated for three years and that she was with him as he went from a "podcaster to a powerhouse CEO of his own company."
In her heartbreaking post, which she prefaced with a trigger warning for abuse, sexual assault, and anorexia, Dykstra writes that she "struggled with such a great fear of talking publicly" about her experience with "long-term abuse," as she knew it could harm her "personal and professional reputation." But after speaking with friends, lawyers, therapists, and publicists, she decided to share her experience — not only in an attempt to seek closure but also to warn others that abuse is "more common than you'd think."
According to the post, Dykstra was in her early 20s when she fell for a man almost 20 years her senior. (Though she hasn't named him, fans and media outlets have speculated that she's referring to Nerdist's Chris Hardwick. He has not commented on the allegations.) Within two weeks, she says, he forbade her from going out at night, prevented her from having male friends, would not allow her to drink, told her to not speak in public places, and wouldn't allow her to take pictures of the two of them. Eventually, Dykstra writes, she felt pressured to take an on-camera job at his company, and he began to sexually assault her. She continues:
During all of this I lost myself, both mentally and physically. I lost 15 lbs within weeks, started pulling out my hair (and had to get extensions regularly to hide it). I generally stopped speaking unless spoken to while with him, drifting through life like a ghost. I would try to sleep in as late as possible so my days were shorter. I stopped listening to music entirely. I ceased to be. I was an ex-person.
Dykstra says she eventually left her abuser for another man — after which he allegedly called several companies she regularly works for and had her blacklisted. She ended her post with a note to him, writing that she does not recommend he try to sue her, as she has "audio/video" to support her claims. Read the full post here.