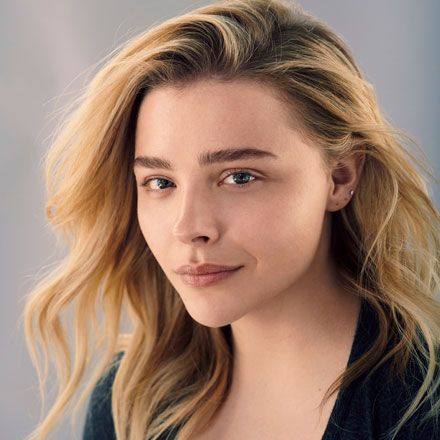 Chloë Grace Moretz's latest project has her stripped down. Moretz is the new face of SK-II's Bare Skin Project, and to promote the campaign, she appears sans makeup — but she also does it without any of the usual tricks. There's no filters, or retouching. The Cut talked to Moretz about using eye cream as a 9-year-old, her experience of being acne-shamed by a group of grown men, and her thoughts on whether zits are cool now.
Do you remember the first beauty product that you bought?
I think I just stole my brother Trevor's. He knew more about beauty products than I did. When I was 9-years-old he was like, You need to use eye cream. [Laughs] And I was like, What? Okay? I remember using some random under-eye cream and I became religious about it. It was my thing that I always did. In my brain, I was like, You know I've got to get that supple skin. But I don't know why. I was a child. I had no under-eye discoloration at all. [Laughs]
You're in the public eye as an actor. What's it been like dealing with skin issues? 
I remember when I was younger and had really bad acne. There was a meeting called when I was 13. I had horrible, horrible skin. The director and the producers, all these men, sat there and stared at me in this makeup trailer. They were like, What are we going to do? I sat there like this little girl. They ended up being like, We're going to pay for CG [computer graphics] at the end of the movie to cover your pimples.
They ended up spending thousands of dollars to cover it and to create this false sense of reality about beauty. It's shocking that they wouldn't just let it be on screen and be the reality of the character who is 13 or 14 years old. I don't think it would happen today.
It was probably one of my hardest moments, just terrible. Meanwhile, I was just trying to find the confidence to get out of that chair and bare my soul as an actor.
There was a story in the New York Times asking if "acne is cool" now. What do you think about that?
[Acne] is just a reality. Especially as women, you deal with hormonal acne and different things. Transparency is really nice — to be able to look at someone and say, "You have that? I have that too!" The understanding that we're the same is really comforting and is really wonderful. It stops you from feeling ostracized.
How do you think about makeup as it relates to confidence?My mom has always been really strict about makeup. When I was on sets she was like, Why are you putting makeup on my daughter? She's 6 years old. It was a massive issue. She always stuck up for me. I chalk that up to her. I, in turn, grew up realizing that I didn't need makeup to feel confident.
Another one of your upcoming films is called The Miseducation of Cameron Post. What have you had to re-educate yourself about, when it comes to beauty? You've previously talked about wanting plastic surgery when you were 16.
It's hard to not think of the easy outs when you're living in a "fast-food" world. We live in a world where things are point and click. Your mindset goes to the easy fixes, whether it be emotional or physical fixes like surgery. To rewire your brain is really, really hard.
Doing the movie made me think pretty hard about miseducation and under-education. Under-education in the sense that we are taught to think that beauty and femininity are one thing. We subscribe to that for most of our lives. It's only now that we're shattering these ideals.
And tied to the idea of changing conventions, you're going makeup-free in your SK-II campaign.
I've been bare skinned around my family, but never truly in a campaign. When I have sort of done it, I've hid behind different lenses and makeup tricks. I wanted to take the chance to empower myself and to find that confidence within myself.
The Facial Treatment Essence is very simple. I immediately jumped on that because I only use honey and olive oil on my skin to wash it. So I was like, Okay, this is the only thing I'll integrate in.
Do you have any tips for when you have a really bad breakout? 
I think the Facial Treatment Essence is something that helps even when I have a blemish. This isn't in the program of what to do with it, but I'll dab it on a blemish with my pinky. I've seen that really helps. Other than that, I just use some rose water, which I think helps with the moisturizing. And drink water.
If you buy something through our links, New York may earn an affiliate commission.