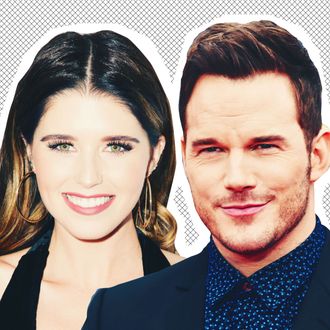 Welcome to You Know What I Heard, the Cut's weekly celebrity gossip column about the peregrinations of the rich and famous.
Truly, none of this matters, but Chris Pratt might have a new girlfriend. Last night, photos surfaced of him taking Katherine Schwarzenegger on a romantic picnic date on Sunday in Santa Barbara, California. The timing and location of the date suggest some level of seriousness: Pratt and Schwarzenegger both live in L.A., and Sunday was, uh, Father's Day. So far, neither of them has commented on their relationship, but they look pretty happy in the photos.
Schwarzenegger, for those not familiar, is the 28-year-old daughter of Arnold Schwarzenegger and Maria Shriver. She is a lifestyle blogger and the author of two advice books. (One of them is titled, Rock What You Got.) Though she is not a star, per se, she grew up in Hollywood, and her younger brother, Patrick Schwarzenegger, dated Miley Cyrus. So, while the Schwarzenegger-Pratt match may seem unexpected, it's not crazy. Chris Pratt dating a lifestyle blogger? That makes sense to me.
And it definitely makes sense that the paparazzi photos were released yesterday, four days before the premiere of Pratt's new movie Jurassic World: Fallen Kingdom, and just a couple of hours before he accepted the Generation Award at the MTV Movie & TV Awards. This is Pratt's time to sell tickets, and having a wholesome new girlfriend in the tabloids will only help him.
Pratt's ex-wife, Anna Faris, meanwhile, is in Italy with her boyfriend, cinematographer Michael Barrett. Photos of them making out on a boat in Portofino came out about 20 minutes after the Pratt-Schwarzenegger pics. Coincidence?
Remember Neri Oxman? The beautiful architect and MIT professor who was supposedly dating Brad Pitt? Well, she might not be anymore. "Page Six" reported last week that Oxman was seen in Paris with her old boyfriend, billionaire hedge funder Bill Ackman. Ackman was reportedly in the picture when we first started hearing about Oxman and Pitt in April, and now, he wants you to know that Pitt can't compete with him. The "Page Six" story is all about how Oxman watched Ackman compete in some kind of rich-guy tennis match (?) and how Pitt can't play tennis or be a billionaire, etc.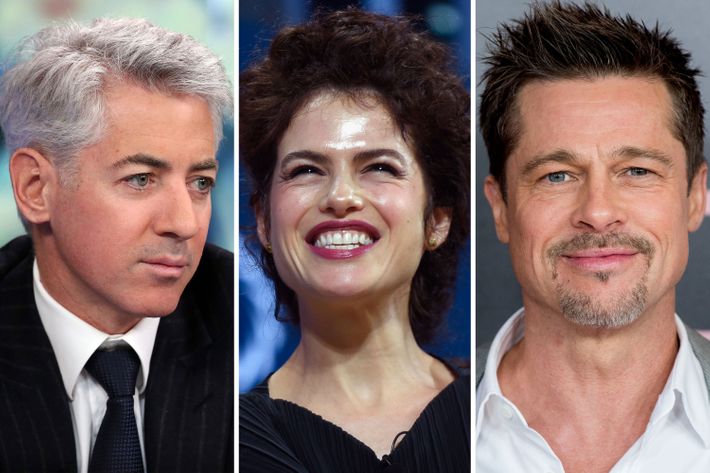 Personally, I think being proficient at tennis is boring, and having a billion dollars is immoral, but no one's asking me. We'll just have to wait and see if Oxman gives multimillionaire Pitt another chance. In the meantime, it seems Pitt is preoccupied with his ongoing custody battle with Angelina Jolie.
Justin Theroux is still spending a lot of time with his "friend" Emma Stone. The two were spotted together last week at a dinner party at Jennifer Lawrence's New York apartment. (Lawrence is reportedly dating the art gallerist Cooke Maroney, but he wasn't there.) According to E! News, Theroux and Stone hung out together on the roof and took selfies. Then Theroux left alone, around midnight, with his new dog, Kuma. What do you think is happening here?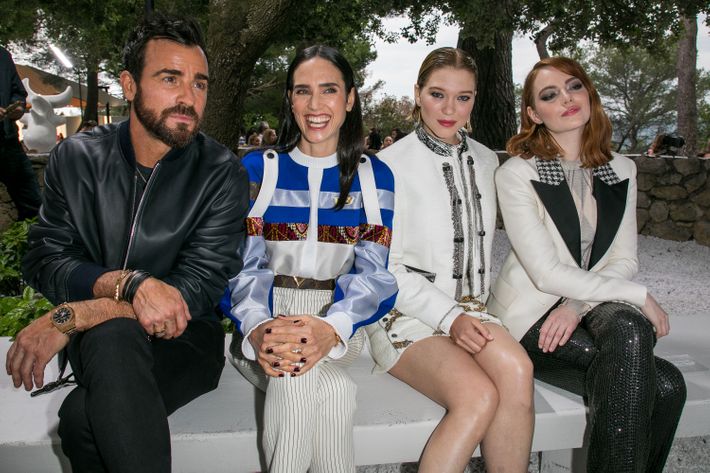 One small blessing from this week:
Christie Brinkley's model daughter Sailor Brinkley Cook is apparently dating a surfer called Balaram Stack.
And here's an interesting blind item this week, from Enty at Crazy Days and Nights:
"This B- list actress/writer/celebrity offspring of an A- list actor/writer was recently hit on by this former A+ list singer who she says gives off dirty old man creepy vibes. Hey, but she is still talking to him, so yeah."
Hmmm.
Finally, I'll leave you with this photo of Kendall Jenner, Bella Hadid, Kristen Stewart, and her girlfriend, Stella Maxwell, in Milan. Hang in there, everybody.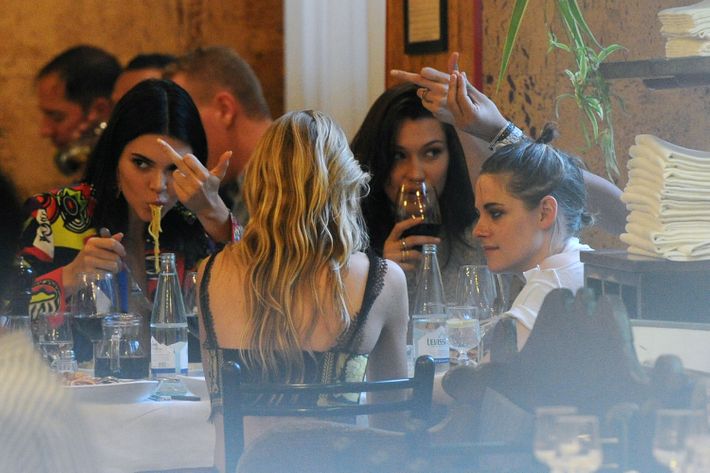 Thanks so much for gossiping this week. If you'd like to get this column in your in-box every week, subscribe in the box up top, and don't forget to send me a message on Twitter or contact me on Signal, if you'd like to chat.