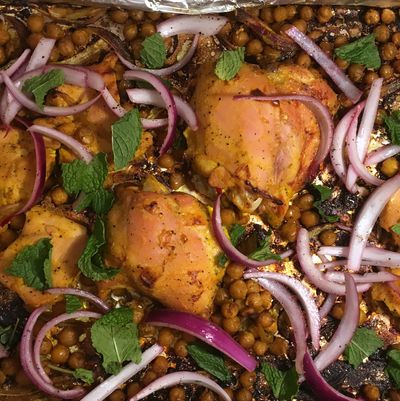 Easy, breezy, sheet pan.
Photo: Madeleine Aggeler
Over Easy is a weekly food column by a 20-something woman who can barely cook an egg and just wants to learn how to throw together an elegant three-course meal for her friends.
One of the most consistently disappointing aspects of my life is that I have never, not even for a moment, been Chrissy Teigen. I've never, like, sneezed so hard that, for a few brief, glorious seconds I was a witty and talented TV host, cookbook author, and businesswoman, mother to Luna and Miles, who are adorable, and wife to John Legend, who is also adorable. I've always just been myself, which is fine, but let's face it, I'm no Chrissy Teigen.
So I've had to settle with poring over Teigen's social-media presence instead. Which is how I stumbled upon this tweet from May, in which Teigen says she is "fascinated" by sheet pan meals — meals where both the sides and the main are cooked on a pan, at the same temperature for the same amount of time. I was intrigued, not only because Teigen recommended it and I would honestly contemplate chewing glass if she endorsed it, but because I am, at my core, profoundly lazy, and a meal that looks beautiful and can be prepared on one dish was extremely appealing to me.
After researching other versions for a total of three minutes, I decided to stick to Alison Roman's New York Times recipe Teigen recommended for chicken and chickpeas with cumin and turmeric. It looked delicious, I love chickpeas, and also, some of the other sheet pan meals I saw called for adding and removing different ingredients from the pan at different times, which seemed too involved for the sort of breezy, elegant efficiency I was going for. Plus, I didn't want to pass up the opportunity to make and eat the same food as Chrissy Teigen, albeit a more poorly executed version.
The recipe Teigen linked to calls for a 3 ½ to 4 pound chicken cut up, or 3 ½ to 4 pounds of bone-in, skin-on chicken parts, like thighs, breasts, and legs. The skin-on detail is important, because skin helps keep the meat moist. Alas, I was pretty hungover when I went shopping for this, and I have been so thoroughly conditioned to avoid "unhealthy" chicken skin that when I found myself squinting in the brightly-lit poultry aisle at Key Food, I instinctively grabbed skinless breasts and thighs. I didn't realize my mistake until after I had gotten home, and by then I had already taken my bra off so it was too late to go back.
First, you toss the chicken in a mixture of full-fat Greek yogurt, lemon juice, turmeric, salt, pepper, and water, and let it marinate at room temperature for at least 30 minutes. Please note: If you've recently painted your nails white after declaring to friends, colleagues, and strangers that white nails will be your "summer look", the turmeric will absolutely stain them, giving your nails a sickly, jaundiced look. Apparently Mindy Kaling had this problem too, because she told Chrissy Teigen the turmeric was "the death of my manicure" and that it made her look like "a yellow nailed side pirate in Pirates of the Caribbean." (I have never in my life been Mindy Kaling either — also very disappointing.)
While the chicken marinated, I combined the chickpeas, fennel seed, cumin, turmeric, and half a red onion, sliced, on a sheet pan. (Well, I divided it all between one sheet pan and one cake pan because my sheet pan is pretty small, and 4 pounds is a lot of chicken.) Once you've placed your chickpea mixture on whatever flat, oven-safe vessels you have available, drizzle it with olive oil, season with salt and pepper, and toss it all together. You could also do this in a big bowl beforehand, which would probably be easier. But I was committed to having as few dishes to wash as possible, so I just tossed everything together directly in the pans.
When the chicken is ready, you push the chickpeas to the edges of the pan, place the chicken with any excess marinade scraped off in the middle and bake at 425 degrees for 45–50 minutes, tossing the chickpeas occasionally so they don't burn. That's long enough to start your laundry, watch an episode of Love Island, and scroll through Chrissy Teigen's Instagram, and wonder whether any of the Kardashians/Modern Family cast members will be at your baby shower someday (probably not but if they are, dibs Khloé and the French Bulldog).
As I watched drunk, sunburnt Brits compete for love, I mixed the other sliced half of the red onion with fresh lemon juice, salt, and pepper, and then mixed ¾ cup of full-fat yogurt with fresh lemon juice, salt, and pepper. Then I decided that whatever food items I make for the rest of my life, I'll probably just throw in some lemon juice, salt, and pepper and be happy.
When the chicken was ready, I threw on the onions and lots and lots of mint, took the requisite Instastory picture, and then made myself a bowl with the lemony yogurt drizzled on top. Sure enough, the skinless chicken breasts hadn't held up particularly well to the roasting, and were pretty dry, but the thighs, even without the skin, were moist and flavorful. The slight heat of the cumin and turmeric was offset by the yogurt and mint, and it was all delicious. I finished my bowl so quickly I'm surprised I didn't choke on something.
The Times recipe says it makes 4 servings, but I've now had this on salads for four lunches and one dinner now, and I have solidly two-and-a-half lunch servings left. And unlike my grain bowl or other meal-planning attempts, I'm not bored by it yet, because the flavors have remained punchy and none of the ingredients have gotten sad and wilted.
I can see now why Chrissy Teigen was drawn to the sheet-pan recipe. They feel easy but elevated, like you could pull one out at a dinner party and people would be impressed, but if you said something like, "Oh, this? I just threw it together!" they might kind of believe you. And while everyone's enjoying their meal, you can tell them how much you have in common with Chrissy Teigen — how you've both made a sheet-pan meal, for instance — and a great time will be had by all I'm sure.
My report card
Preparation: B+
Taste: A
Am I Chrissy Teigen yet?: No :(
My Overall Performance: A
This post has been updated to reflect that Alison Roman is the author of this recipe.