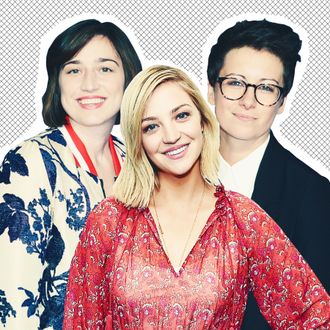 Beth Newell, Abby Elliott, and Sarah Pappalardo.
The geniuses who brought you such work as "Trendy Crop Tops for Harvesting Dick" and "Woman Completes 500 Hours Of Considering Doing Yoga Teacher Training" may soon be coming to your television.
Per The Hollywood Reporter, Comedy Central has ordered a late-night talk-show pilot from Beth Newell and Sarah Pappalardo, the creators of the satirical women's site Reductress. The Reductress Hour will be hosted by an in-character Abby Elliott — formerly of Saturday Night Live — and is envisioned as the following:
The potential series will take on the absurdities of women's news, trends, broader national subjects and entertainment television while tackling various issues of the week, original segments and field interviews.
Reductress was founded in 2013, and has since expanded to include podcast offerings, live shows, and a book. You can read the Cut's 2016 feature on them here.