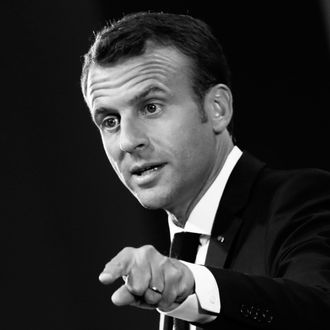 Emmanuel Macron.
Photo: Ludovic Marin/AFP/Getty Images
Today in international news, we have a high-profile fight between French president Emmanuel Macron and … an extremely cool teen who publicly sassed him.
The Washington Post reports that the showdown occurred on Monday at the Mont Valerien memorial honoring French Resistance members. It was there that Macron, who once said that he wanted to run his country like a "start-up," met his foe.
The teen — on the rope line with some friends — sang a couple of lines from the Socialist anthem the "Internationale," a jab at Macron's pro-business overhauls. 
Hell yeah.
 Then, the middle school student greeted Macron with a cheeky, "How's it going, Manu?"
Sacrebleu!
Macron did not simply move it along. "No, you can't do that. You're here at an official ceremony and you should behave," he scolded. "You call me 'Mr. President' or 'Sir.' Okay? … The day you want to start a revoltuion you study first in order to obtain a degree and feed yourself, okay? And then you can lecture others."
The kids are, as they say, all right.