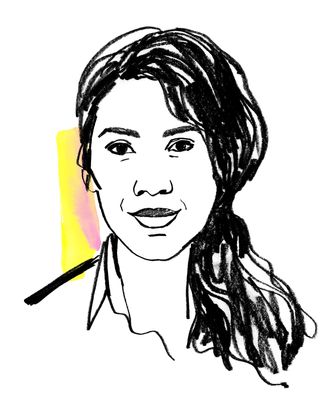 Illustration: Lauren Tamaki
Chef Daniela Soto-Innes got her start in kitchens by lying about her age. She started working at restaurants at the age of 14, never revealing how young she really was. At age 23 she moved to New York City to open Cosme. Within two years of the restaurant's opening, she was named the James Beard Rising Chef of the Year, and Cosme landed on the World's 50 Best Restaurants list. She is now a partner at the restaurant, as well as at the team's latest space, Atla. Here, she shares how she gets it all done.
On her morning routine:
I wake up around 7 or 8 a.m., and I do some kind of workout, whether running or cycling or yoga. After that, I go to work, and I kiss everyone on the cheek right when I come in to both of the restaurants. At Cosme I'm like the psychologist. Everybody wants to talk to me and tell me what happened while I was away, tell me which ovens broke. I always do service at Cosme at night. But that's it, that's all I do. It passes by very fast. I wish there were five more hours between 9 a.m. and 10 a.m.
On the addictive pace of kitchens:
My whole life, every single paycheck I've ever received has come from cooking. I don't know how to work for another reason. I need to be active, I need to have a lot of things going on at the same time. It's a fast-paced environment, and you have to be alert all the time. You have to be sure you don't trip and drop a pot of hot sauce on someone. I have two sisters, and one is a yoga instructor in the mountains of Colorado, and the other one has an insurance company. We could never do each other's jobs.
On hiding her age:
I started in a real kitchen when I was 14. The whole time I've lied about my age, until I got to Cosme — and then I only lied for the first three months. I quickly realized it's an advantage to be young in such a high position; it pushes people to be better.
On managing people older than her:
My sous-chefs are older than me, all of them, but some of the cooks are younger. We are all treated with respect. They call me "chef." I know what I'm capable of, not in terms of age but with the experience I've been through. The way I manage is, I get them to focus not on how young I am but how much I've learned and how much I can give to them. I try to be humble, because they can see right through me. They know when I don't know.
On the true meaning of accolades:
They get people in the door of the restaurant. It's a magnet for talent — people are excited to eat here, and to work here. Personally, if you can go back to the tape of the James Beard awards, I was so shy. I had nothing prepared. I didn't campaign for this, it just happened. Now we have expectations, and that's the stress. We are competing with restaurants that have been around 30 years. I do it for the cooks. I want them to be happy to work here. How do I keep my cooks happy and motivated? Everyone keeps their James Beard awards at the bar, or near the door of the restaurant, but mine is at home with my books.
On still finding joy in food:
I do go out and enjoy myself. My favorite place is Sunday in Brooklyn, near my home. It's open all day, and it's American food but a lot of veggies. I love Uncle Boon's, so fun, or Lilia, where the owner is a wonderful friend. The best hot dog is at the NoMad. Yesterday I went to Ssäm Bar, and everyone was so nice. The rice cakes, my god, have you ever had those?
On remembering why she's here:
At 12, I moved to the U.S. from Mexico, and I went to school at an academy that would focus on kids pursuing their careers. A lot of chefs would come in and talk to us, and I remember it being really boring, to be honest. The chefs were not nice to look at, and not friendly. They didn't love their jobs. Then one chef came in and was giggly and sweet and he said the words that I repeat to cooks. He said, "In cooking, your first 5 to 20 years, you won't see money. You will have burns on your arms, your feet will be tired. But you will eat the best food in the world, you will travel, you will be drink the best wine. You will be very happy." That just stuck to me. Those stressful days when I'm like, why did I pick cooking?!, I remember that.