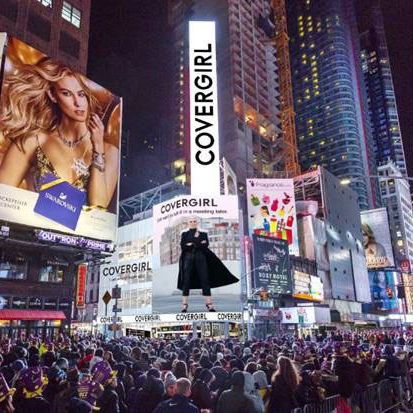 Shopping for drugstore beauty products in New York City is about to get a lot more fun. CoverGirl just announced it will open up a massive flagship store in the middle of Times Square, where it can cater to tourists and locals alike.
The flagship will be CoverGirl's first brick-and-mortar retail location in its 60-year history. The brand says the space will be dedicated to inspiring shoppers and showcasing its newly redesigned beauty products. With 10,000 square feet of retail space, the store will "offer an experiential beauty playroom," which sounds like an interactive room where you can test out all the CoverGirl products you've ever wanted and some exclusives you didn't even know existed. There will also be full makeover services, on-the-go services, and yet-to-be-announced digital experiences. Might CoverGirl spokesmodels like Issa Rae and Maye Musk make an appearance? Quite possibly.
"It is our mission to show up for people wherever they are on their beauty journey," CoverGirl's senior vice-president, Ukonwa Ojo, said in a statement. She added that the store would "offer [customers] innovation and experiences that inspire them to become whatever version of themselves they want to be in the moment."
The flagship will open sometime this fall, and judging by the rendering of the store, it's probably going to look pretty futuristic. The Times Square Sephora is enormous, but this one might just give it a run for its money.