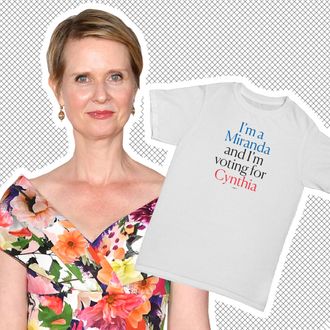 Cynthia Nixon, merch.
Photo: Getty Images
When Cynthia Nixon first announced that she was running for governor of New York, another name often came up in the same breath: Miranda Hobbes. The no-nonsense redheaded lawyer from Sex and the City is Nixon's most famous role, a major cultural touchstone, and, in retrospect, by far the best character on the show. But there was also much speculation about whether SATC would hinder her chances of success, and if she would choose to embrace her past or distance herself from it on the campaign trail. For the show's 20th anniversary, we have a clearer answer to the latter.
On Tuesday, Nixon announced that her campaign had launched a new line of merchandise designed by the women behind the popular fashion Instagram account @everyoutfitonsatc. The "SATC 20th Anniversary Collection" includes T-shirts, tote bags, and hats, emblazoned with sayings like "I'm a Miranda and I'm voting for Cynthia" or "I'm a Miranda Future Governor of New York."
This isn't the first time Nixon's leaned irreverent with her gear. There were the "Unqualified Lesbian" buttons — a nod to Christine Quinn's barbed insult early on in the campaign and the more direct "Fix the G D Subway #CuomosMTA" shirts.
And while Andrew Cuomo has personally refused to name his favorite SATC character, I'm still holding out hope for a "Carries for Cuomo" tee.