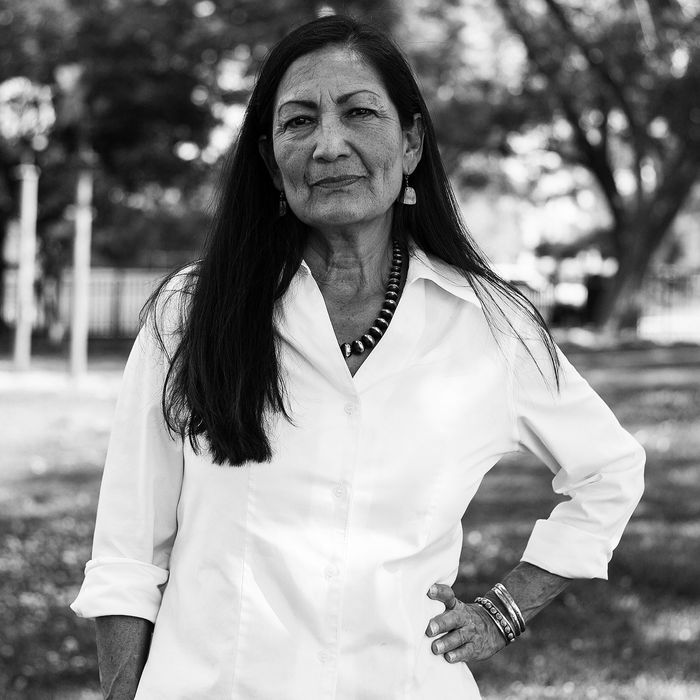 Deb Haaland.
Photo: Juan Labreche/AP/REX/Shutterstock
After winning the Democratic primary for New Mexico's 1st congressional district on Tuesday night, Deb Haaland is on track to become the first Native American woman ever to serve in Congress.
In her victory speech, Haaland — an enrolled member of the Laguna Pueblo, one of New Mexico's 23 federally recognized tribes — told the audience, "Tonight, New Mexico made history," saying hers is a "victory for working people, a victory for women and a victory for everyone who has been sidelined by the billionaire class."
"Donald Trump and the billionaire class should consider this victory a warning shot," she added. "The blue wave is coming."
Haaland is a lawyer and a single mother who worked on Barack Obama's presidential campaign in 2008, and has been a vocal advocate for abortion rights and universal health care. She has also endorsed the elimination of ICE, the U.S. Immigration and Customs Enforcement agency.
"We must be welcoming to those who flee their country because of violence and abject poverty in hopes of a better future  —  that's who we are as Americans," she said.
New Mexico's 1st congressional district is solidly blue, meaning there's a high likelihood Haaland will secure the seat in November, against the uncontested GOP candidate Janice Arnold-Jones.
As HuffPost points out, Haaland's election would be a historic one, given that, of the "more than 10,000 people have served in the House and nearly 1,300 have served in the Senate since the first Congress met in 1789" not a single one has been a Native woman. ("Crazy, right?" Haaland told them.")
Currently, there are two registered Native Americans serving in Congress — Oklahoma Republican congressmen Tom Cole and Markwayne Mullins.