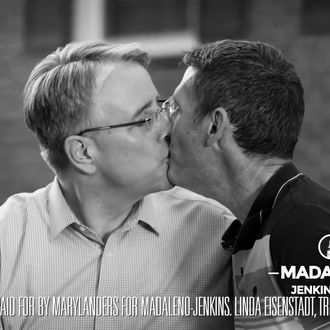 Richard Madaleno and his husband.
Richard Madaleno is currently running for Governor of Maryland, and is currently in fourth place among Democratic candidates. He may be getting a bit more name recognition now, though, thanks to a campaign ad he released on Thursday morning.
In it, Madaleno, a state senator, outlines a variety of actions he's undertaken that "infuriate" Trump. He ends by kissing his husband, Mark Hodge, on the lips — what the LGBTQ Victory Fund says is the first American political ad to feature a candidate and their same-sex spouse kissing. To add to that, he made sure to air it during this morning's Fox & Friends.
Watch the full ad, below: