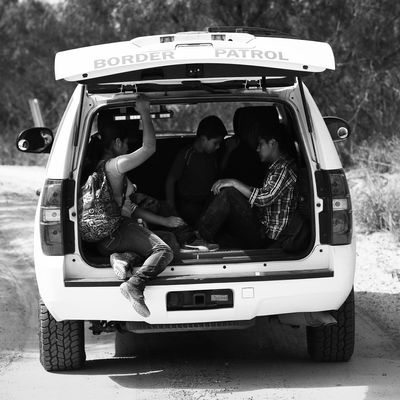 Photo: John Moore/Getty Images
In the aftermath of Trump's zero-tolerance immigration policy, shelters that house children who immigrate to the U.S. seeking asylum are in the spotlight. The Cut spoke to licensed clinical social worker Letizia Rossi about her experience working at an "Unaccompanied Alien Child" shelter from 2014 to 2015, after a surge of migration from Central America. She describes what it was like to work with children who were detained far from home.
I worked in a shelter for detained migrant children —  an Unaccompanied Alien Child shelter — from 2014 to 2015. After the big surge of migrants around that time, there was an increase in shelters. I feel pretty comfortable talking about what was going on, because the shelter I worked at doesn't exist anymore.
I was a clinician. I'm a licensed social worker, with a masters in social work — I did therapy, basically, and initial assessments. The boys came to us from Texas, after they'd been processed in McAllen. They were from Honduras, Guatemala, and El Salvador; almost one hundred percent from those countries. We had maybe one kid from Nicaragua and one kid from Ecuador.
The boys mostly had the same story: They would take a series of buses, with guides, and then get to a point where they would wait in a warehouse for a few days, then they would cross the river on an inflatable raft, then walk a little bit before turning themselves in to Border Patrol. Then they were held in what was commonly referred to as "the freezer" — it was cold. They were there for a few days, before they were flown to random places all over the country to go to these shelters. We'd pick them up at Newark and take them to our shelter.
After a child arrived, I would do a thorough assessment, assessing for trauma — trauma that could have happened during the journey or before, in their home country — or any kind of trafficking. There were a lot of experiences with domestic violence at home or a family member being murdered by gangs, things like that.
For many, a gang had approached them and said, You need to join the gang or else we'll hurt you. And the next day their family would somehow get them on a bus to get out. They would agree to pay up to $3,000 to have guides take them to the border. A lot of times the expectation would be that these kids would get to the U.S., where they could work and send money back home to pay for the debts their families incurred to pay for these journeys.
The kids were mostly teens, 13 to 17. We were officially licensed to work with children 10 to 17, but most of the children were on the older side of that. Some of the Guatemalan children didn't really speak Spanish; they spoke other languages like Q'eqchi' or K'iche' or Mam, which could make communication more challenging.
Once they were in the shelter, the environment was very supportive. The conditions were pretty culturally competent. All the staff spoke Spanish. They were taken to church every week; if they were Evangelical, they went to the Evangelical church, Catholics went to the Catholic church. They could play; there was an agreement with a high school in Manhattan, to use their facilities for recreational activities. They were given an educational assessment to determine what level they were at, and they had school on-site, medical care too. There was an effort to keep the food culturally competent.
In general, the kids were pretty shy and quiet. For many, it wasn't culturally the norm to talk a lot about themselves. That could make therapy challenging, because it was hard to draw them out. They did seem to really like the group therapy.
Everyone who worked at the shelter I'd describe as the "nonprofit type" — people who want to work with kids. It was very much seen as a shelter and not a jail. Although the children were, of course, officially being detained. They were never out of sight of the staff. They also weren't locked in. Had they really wanted to go AWOL, they could have. But they never did.
The shelter also had an agreement with Catholic Charities' legal department, which would come to the shelter and do a know-your-rights workshop and then meet with each kid individually and discuss whether or not they had a case for asylum. Each kid also had a caseworker, who would call the person they were coming to meet — sometimes a parent, sometimes an uncle, sometimes a sibling. They would assess whether that person was actually related to them, looking to see if this was trafficking, looking to see whether there were resources to care for this child. They didn't have to be documented or held to the standards of adoption, where you have to prove high levels of income. They would have a verbal agreement that the child would go to school and that they would go to court. But there was no way to follow up to see if that happened.
Our shelter didn't stay in business, so there was especially not a way to find out what ended up happening with those kids. So when you're reading stories about missing children, those were the kids who were released from detention to sponsors and then never appeared in court.
The children were advised to appear in court — we told them that, their caseworkers, their lawyers. They were also advised to go to school. They would be released to a sponsor with a packet of information about the school closest to them, the doctor who takes kids without insurance, an immigrants' organization nearby. We would look everything up and compile it into a list, then talk to their families and make sure they understood. We also spoke to an outside consultants, who would consult with us by phone.
A lot of this legwork was done by these caseworkers — who are not social workers, they're people who want to work with families on a grass-roots level — who would call undocumented immigrants and try to convince them to get their fingerprints done to prove that they didn't have a criminal record, that they were fit to be a sponsor for a child. There was a lot of paperwork involved. Depending on how fast families could turn those things around, the kids would be in the shelter for a couple days, or a couple weeks. There were changes near the end of the time where I worked there, some new hoops that meant kids had to stay at the shelter much longer.
The shelter that I worked in was mostly under-utilized. There was an expansion of services that never really ended up being necessary; we were never really full — there were about 28 beds total and not all of them were used. Everything was nice, brand-new. They were bunk beds, with one or two roommates. There were some single rooms. There was a common room with video games and TV. It was like a college dorm, almost exactly like a brand-new college dorm. I've also visited a shelter in the suburbs. The housing there was in little cottages, which were also nice. At the time, half of the space was used for unaccompanied minors and the other half was for kids in foster care.
Everyone was a minor, and that's how we referred to them — as the minors. One of the youngest children I worked with was in a wheelchair. He was carried across the border by an aunt. They were separated at the border, though I don't understand the details of why. I think she was deported, and he was brought to the shelter and then, eventually reunited with other family who was here legally.
By the time kids made it to us, they had a few things — their clothes, some documents (maybe a birth certificate, maybe a passport if they had more resources). Sometimes they had a cell phone. All of that was taken away, put in a safe, then given back to them when they left.
Most of these kids had crossed the border and turned themselves into Border Patrol. They had an idea of what was going to happen. Some of them would get more frustrated if they had to stay in the shelter for longer; some would get very upset, cry, and miss home. Some hadn't necessarily wanted to leave home at all, but their parents pushed them to because they didn't feel they were safe.
Now, I work as a therapist for immigrant families. Under this administration, the families I work with are having more anger, more fear. When I worked at the shelter, it was ironic — there weren't enough kids for what we had available. But there was also a lot of uncertainty about what would happen to the children. We knew they could be deported, or that they might go off the grid, go start working somewhere, not finish school, not have a path to citizenship.
I'm sure that the people currently working directly with kids who are detained are doing their best to care for those kids. But it was a different administration when I worked in a shelter. I can say that, back then, there was a lot of effort put into keeping children safe and reuniting them with their families as soon as possible.
If the kids I worked with had been five, ten years younger, the ages being detained now as the result of the administration's "zero-tolerance policy" — of course that separation would be difficult for them. Especially if that's not what they were expecting. It'll be like foster care, which is a very traumatic experience for families. Children are separated from their primary caretakers in this country all the time, for things as benign as that caretaker failing a drug test or incurring other status offenses. It is traumatic, and this will be too. But it's also similar to something that we already have here, which is foster care.
To see ways you can help immigrant families and children, click here.