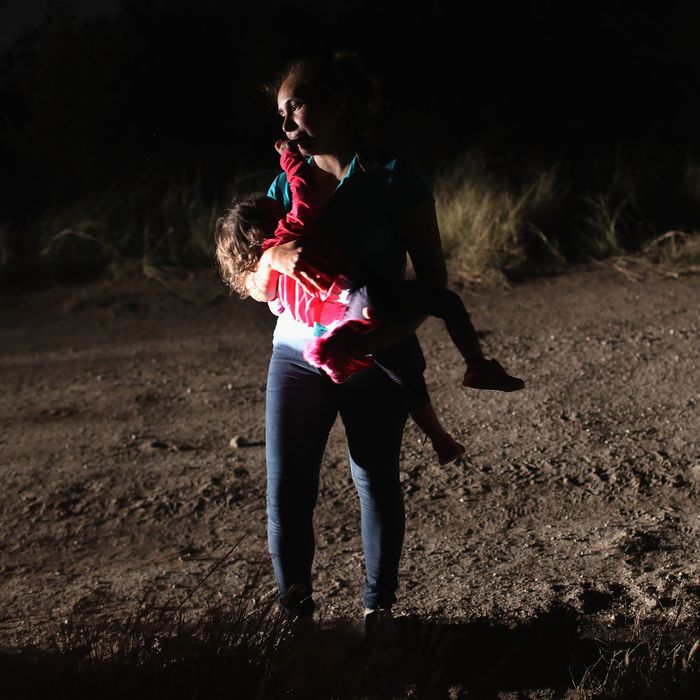 Photo: John Moore/Getty Images
After intense backlash over the Trump administration's inhumane "zero-tolerance" immigration policy that rips families apart at the border, the Department of Homeland Security is reportedly drafting a plan to end its family-separation policy. President Trump also said on Wednesday that he will be "signing something" to end the policy.
According to the AP, Security of Homeland Security Kirstjen Nielsen — who has essentially become the face of the cruel policy — is drafting up an executive action for Trump that would instruct the DHS to keep families detained at the border together while under federal custody. The order has not yet officially been announced, but two people "familiar with her thinking" spoke to the AP about it under the condition of anonymity.
As of late Wednesday morning, the AP reported that Nielsen was on her way to the White House to discuss the draft order with the president's team. The action would also reportedly direct the Department of Defense to house families detained at the border. The order reportedly would not stop the families from being detained in the first place; it would just keep family members together in detention.
White House spokeswoman Sarah Huckabee Sanders, when asked whether the White House might draft an executive order on immigration, said, "We'll keep you posted. When we have an announcement to make, we'll make it." Furthermore, earlier Wednesday, Trump tweeted that he was "working on something." (He also used the opportunity to criticize Democrats.)
Trump also reportedly said he would be "signing" something to keep families together.
The news of the draft order broke shortly after Representative Paul Ryan, the top Republican in the House of Representatives, announced that the House would vote Thursday on legislation that would end the administration's family-separation practice. Nielsen said in a Monday press briefing that the administration felt Congress needed to pass legislation about immigration before acting to end the policy, prompting many to accuse the White House of using the affected immigrant children as "pawns." Speaking with the AP, the sources close to Nielsen said she thinks there is "little certainty" that Congress will do anything to change the policy.
The reported draft order comes amid intense blowback over the cruel policy. Journalists, certain politicians, advocates, and civilians have criticized the Trump administration for brutally separating families, and nationwide protests have begun to form.
To see how you can help families separated at the border, please see here.