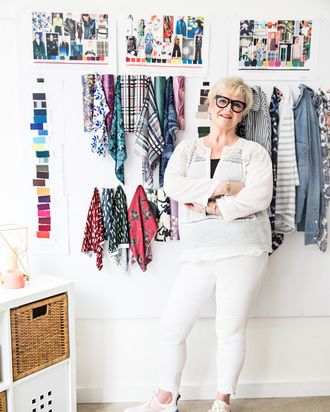 Marita Aikonen wears Stella McCartney sneakers.
Photo: Victoria Stevens
In Her Shoes is a column about what real women wear when they need to get things done.
The world of fashion remains pretty unwelcoming to women who wear above a size 12, but Marita Aikonen is working hard to change that. Aikonen is design director at the subscription service Dia & Co., one of the fastest-growing retailers to cater exclusively to women who wear size 14 and up. In her nearly two years at the company, she's launched eight new labels from the ground up. She also consults with dozens of partner brands to translate their range into extended sizing. Her most recent project was with EleVen by Venus Williams, and launched as a part of Dia & Co's new activewear arm.
Aikonen grew up in Finland and began sewing her own clothing at age 7 with the help of her seamstress grandmother. She went to college in her native country, then moved to California to work as a nanny, eventually ending up at the Louise Salinger Academy of Fashion in San Francisco. That led to a stint at Levi's, where she started the women's Dockers plus-size division, which wasn't easy. "It was honestly a radical idea at the time. We really had to sell the idea internally, and then work with major retailers to convince them to take it," said Aikonen.
Next, she moved to Old Navy, where she oversaw both their plus and maternity design offerings. "We built out the plus-size business in active and swim as well as sweaters. These were categories where there had previously been a misconception that they wouldn't be successful in plus sizes, and we were able to disprove that myth," explained Aikonen.
After over eight years at Old Navy, Aikonen launched her own brand, eevamarita, but also applied for a job at Dia & Co. as a stylist on a whim. The company initially rejected her as overqualified, but then her résumé landed on the desk of founder Nadia Boujarwah, who brought her on to grow the business. The Cut talked to Aikonen about statement tops, embracing trends, and her favorite Louboutins.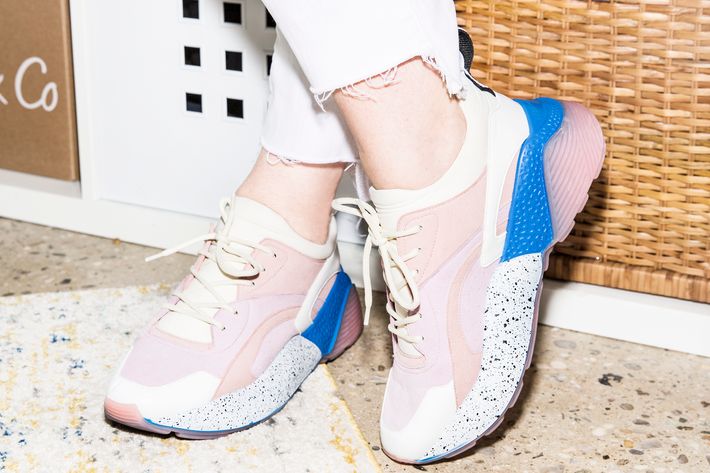 On adjusting her outfits based on her projects: In a design presentation, I'll practice what I preach. If there's a major trend that I'm tapping into for an upcoming collection, I'll dress so people can see what it looks like translated into the real world. My style has to be fluid and adaptable as I oversee design for eight brands that are in the market, and several more that are in development. Each has its own distinct personality — from Molly & Isadora, which brings a classic, casual all-American prep sensibility, to Ryan Wythe, which provides elevated workwear for the professional woman. I need to be able to dip in and out of each aesthetic.
On her commuter shoes: I always wear sneakers for my commute into the office. I take the PATH train from Hoboken and then walk through the West Village to the office in Soho, so comfort is key. I have quite a few pairs I rotate between, but two of my favorites are my Golden Goose sneakers, or my No. 21s. Once I get to the office, depending on what my day looks like, I'll either stay in them or change into a more formal pair of shoes.
On her desk shoes: I currently keep four pairs of shoes at my desk. I have these Lanvin snakeskin T-strap sandals that are six years old and still in phenomenal shape. I also keep these Vince Camuto ankle strap sandals with a 2.5" heel — my current go-to height. When I lived in San Francisco, I wore higher heels, but I'm constantly on my feet in NYC, so I look to something a bit more practical. I typically only wear high heels for special events now. Also in my desk drawer are Christian Louboutin metallic wedges, which are my showstopper shoes, plus Halogen gladiator sandals — my summer staple.
Shop Summer Sandals
On her work uniform: I tend to keep my overall look neutral but incorporate elements of different styles, depending on what I'm working on at the moment. A go-to brand for me is by Malene Birger, known as the "Chanel of Scandinavia." I usually wear jeans, so tops and shoes are where I tend to show off my personality. Lately I've been getting into Balenciaga's oversized menswear-inspired shirts, and for statement shoes, my go-tos are my metallic Louboutin platforms or their black pom pom flats.
On going out after work: I rarely change outfits throughout the day. I'll plan out my outfit in the morning to make sure it works for everywhere I'll be that day. If I'm planning to meet up with friends for casual drinks after work, I wear jeans with a fun top. I really only wear dresses for events these days, and I prefer a drop-waist or shift silhouette, or a statement-print maxi dress. I love my classic Marimekko sleeveless maxi dress and I'll wear it with sandals plus big jewelry.
On dressing for a busy day: I'm constantly running around, whether I'm meeting vendors in midtown to attending fittings or picking out fabrics or troubleshooting product development issues. I'm never sitting down for long! Because my day is so active, the clothes and shoes I wear need to have both fashion and function — that's something I care about deeply. But finding clothing that meets these functional needs can be a major pain point for the plus-size community. That's the reason why we just launched Dia&Co Active — the fashion and fitness communities tend to assume that women above a certain size aren't active, but the truth is that women of all sizes are constantly on the go. We all need clothing that meets our needs both in terms of style and performance, whether we're going to the gym or running between meetings.
On how she dresses for Mondays: I'll grab dark skinny jeans (or white denim in the summer) and pair that with a boho top that's embellished or that has an interesting sleeve shape. It's simple enough that I don't have to think about it, but it will still look thoughtful.
Shop Statement Tops
On personal style: I really don't dress for anyone else. Fashion for me is a form of self-expression, and the primary thought in my head when I get dressed each morning is what side of my personality I want to bring to the forefront. I like to describe myself as glam, boho, and chic — though I wouldn't shoot for all three of those at once. Those are different sides of my personality, and I'll tap into one more than the other depending on how I'm feeling each day. I want it to be subtle — hints of each of those styles should peek through.
If you buy something through our links, New York may earn an affiliate commission.