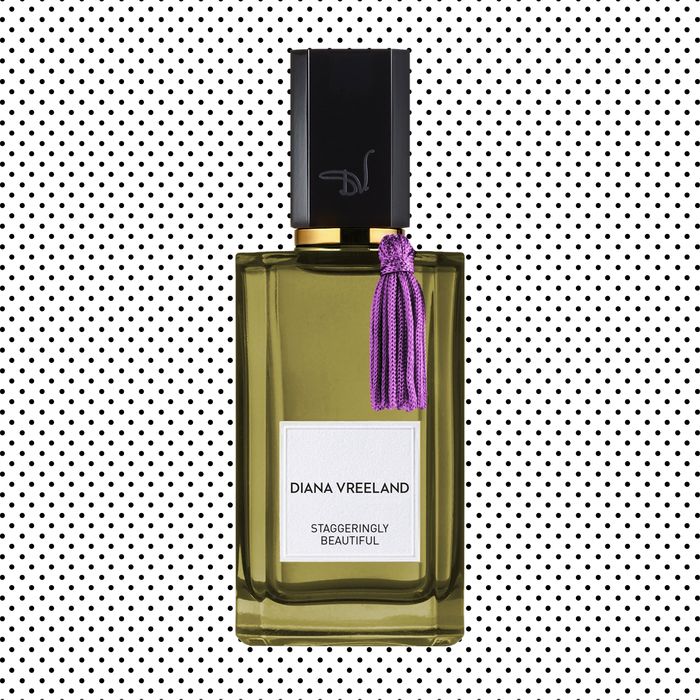 Photo: Courtesy of Diana Vreeland
There's pretty, beautiful, and most beautiful-est — a superlative that a new perfume is trying to capture. The Diana Vreeland perfume line's newest release is an ambitiously named scent called Staggeringly Beautiful.
Crafted by perfumer Pascal Gaurin in partnership with the legendary Vogue editor's grandson, Alexander Vreeland, Staggeringly Beautiful celebrates Vreeland's take on beauty and the places she found it. Beauty certainly appears in models, but Vreeland was known for celebrating less obvious beauty, whether it was in a bold Balenciaga cape, a gap between the front teeth, or the chimes of bells in the most famous cathedral in her hometown, Paris.
Directly inspired by a Mediterranean summer, the perfume has notes of earthy fig leaves, the fruit itself, Sicilian bergamot, and daffodil for a green and floral scent. Like many of the brand's fragrances before it, including Vivaciously Bold, Staggeringly Beautiful is not meant for teens or those looking for "quiet scents." It's designed to be a loud, strong scent that might scare off anyone looking for a "cute" or vanilla-y mall scent. And it goes without saying that it smells nothing like Fig Newtons.
The figgy scent is available now from the Diana Vreeland fragrance website.
If you buy something through our links, New York may earn an affiliate commission.