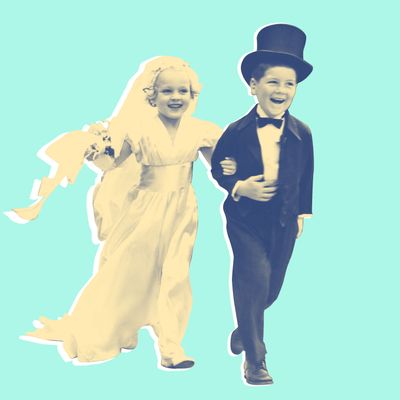 Photo: Lambert/Getty Images
Here are a few of the things to come out of Pete Davidson and Ariana Grande's three-week-old relationship: Two new Grande-inspired tattoos (Davidson), one old tattoo reworked to cover up an ex's face (Davidson again), one gigantic diamond ring (Grande), in-depth dissections of the timeline of their relationship (everyone else), and, as of a few days ago, an apparent engagement.
Good luck to those two lovebirds and everything, but you probably wouldn't be surprised to learn that research doesn't show great odds for marriages that come out of whirlwind romances (and this one is particularly whirlwind-y). A host of studies have found that a longer romance before marriage is linked to higher marital satisfaction and lower risk of divorce. One 2015 study in the journal Economic Inquiry, for example, found that couples who dated for one to two years were 20 percent less likely to later get a divorce than those who dated less than a year, and couples who dated for three years or longer were 39 percent less likely. A 1985 study in the journal Family Relations reached a similar conclusion, with the authors writing that among the women they surveyed, "a longer period of dating was associated with a higher probability of a happy marriage."
And in a 2006 doctoral thesis, psychologist Scott Randall Hansen found that the highest risk of divorce belonged to couples who had gotten married less than six months after they began dating. (Though as Alice Robb noted in The New Republic, his research came with an important caveat: "Rushing into marriage might be a sign of impulsiveness or impatience," she wrote, "personality traits that could also lead couples to give up on each other.")
The reason why longer is generally better is fairly obvious: "Having a longer time to date allows couples to get to know each other better, and find out about things that may be deal-breakers later on, ending worse relationships before marriage," says Arielle Kuperberg, an associate professor of sociology at the University of North Carolina, Greensboro, and a senior scholar at the Council on Contemporary Families. "Couples that enter marriage too quickly may not have had the time to fully discover all those things about their partner that later end up being deal-breakers."
On the other hand, there's a time limit on the protective effect of a long courtship, and dating too long before tying the knot seems to come with its own risks. In one 2002 study, just over two years seemed to be the sweet spot that led to the most stable unions; couples whose courtships were shorter or longer were more unhappy in the first few years of their marriages. And Kuperberg says that in her experience, the turning point is courtships that last longer than four or five years.
"Couples that take a very long time to decide to marry may be hesitating for a good reason," she says, "or feel pressured to enter marriage with someone they aren't entirely compatible with because they have been dating for so long."
Granted, there are exceptions to every rule. As Robb highlighted in her New Republic piece, Shirley Temple was famously one of them, marrying her husband after 12 days and going on to enjoy more than a half-century of wedded bliss. The parents of a friend of mine have a similar story. So do lots of other couples in loving, stable marriages — and while a long courtship did increase the likelihood of a happy marriage in that Family Relations study, the authors also noted that it "did not appear to be a necessary condition."
So, back to Davidson and Grande: Are those two crazy kids necessarily doomed? No. But still, for something as weighty as marriage, it couldn't hurt to play the odds a little.