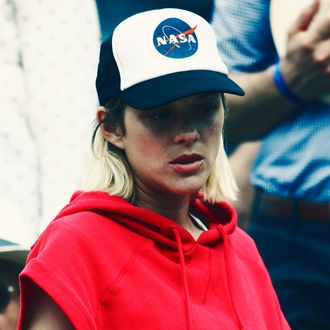 Marion Cotillard.
Photo: Mehdi Taamallah/NurPhoto via Getty Images
"Did a man really walk on the moon?" wondered beautiful French actor Marion Cotillard in a 2007 interview during which she also denied the believability of the September 11 attacks. "I saw plenty of documentaries on it, and I really wondered. And in any case I don't believe all they tell me, that's for sure."
Ah, yes — did a man? It's impossible to say, just as it's impossible to know anything has happened if we have not witnessed it directly and even then it could have been an illusion. Cotillard seemed to sing a different tune regarding the moon landing at the French Open on Sunday in Paris, however. Or — at least she was singing a tune about NASA in general. Or — at least she wore a NASA trucker cap.
Is the truth out there?
The Cut has reached out to Marion Cotillard's reps for comment on whether or not she believes in the moon landing now, and we will update if we hear back.