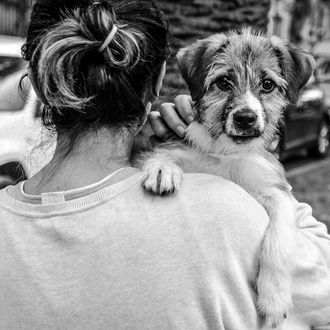 Photo: Juan Ignacio Mogordoy/EyeEm/Getty Images
Domestic-abuse victims often delay leaving an abusive situation because they fear what will happen to their pets — while abusers can extend their behavior to animals as punishment, the vast majority of shelters don't allow women to bring their pets along. But one shelter in New York City is setting out to break this tragic cycle by creating a space that's custom-built to accommodate pets too.
The Associated Press reports that the Urban Resource Institute — which already operates multiple pet-friendly units across four different shelters* in the city — is designing a new facility that can house up to 100 people and their furry companions.
It'll include several features that are specifically animal-friendly:
The new seven-story, 30-apartment shelter will have a shared pet-grooming room and a secluded dog park, so residents fearful of abusers finding them don't have to leave to walk dogs.




Windows won't open wide enough for cats to get out, but there may be shelves so felines can look outside. Flooring won't be too slippery or too sticky for paws. Paint won't be bright white, as some manmade white materials may appear fluorescent to cats and dogs, Venator said.
The shelter is slated to open in October.
*This article originally stated that URI only operated one pet friendly shelter and has been corrected.