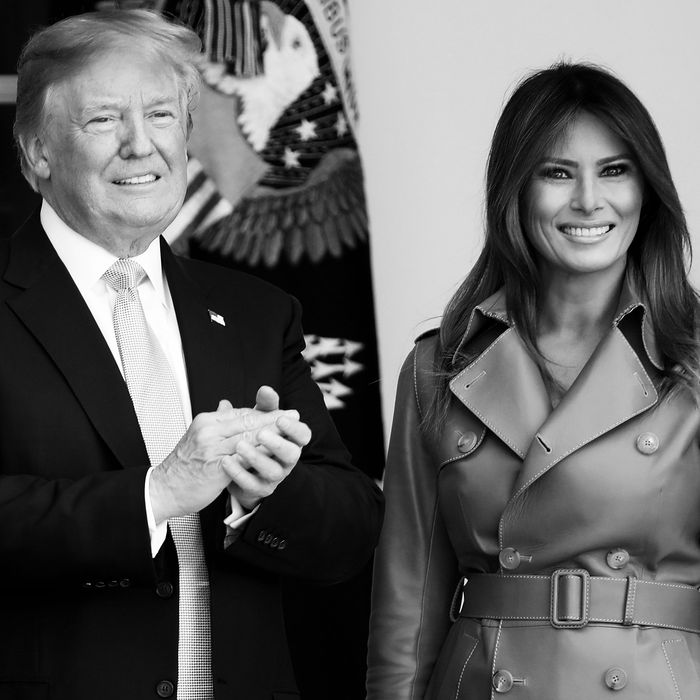 Donald and Melania Trump.
Photo: Win McNamee/Getty Images
On Wednesday morning, Donald Trump addressed concerns about Melania Trump's extended absence from the public. His first tweet of the day read:
Trump went on to claim that four reporters had recently spotted Melania inside of the White House, and had opted against reporting said sightings because doing so would "hurt the sick narrative that she was living in a different part of the world, was really ill, or whatever."
Melania's public appearances have been sparse since May 10, when she made an appearance with the president at Joint Base Andrews; four days later, it was announced that she had undergone a procedure for a benign kidney problem and would remain in the hospital for the remainder of the week. But she didn't reappear in public following her recovery — in fact, before her Monday appearance at a Gold Star military event at the White House (which was closed to the press), Melania had not been seen in four weeks.
Melania, or someone tweeting on behalf of her, has maintained her Twitter account throughout her prolonged disappearance from the public eye. On May 30, she addressed the widespread speculation about her whereabouts, tweeting with noticeably Trumpian diction that she was "here at the @WhiteHouse w my family, feeling great, & working hard on behalf of children & the American people!"
Speaking to the Chicago Tribune earlier this week, Katherine Jellison, a professor at Ohio University who studies the history of First Ladies, called Melania's absence "unprecedented." Jellison continued, "I don't know what we want to call this period where she hasn't been in view. Respite from the role of first lady? Vacation from first lady? Medical recovery period?"
Melania has yet to tweet today.