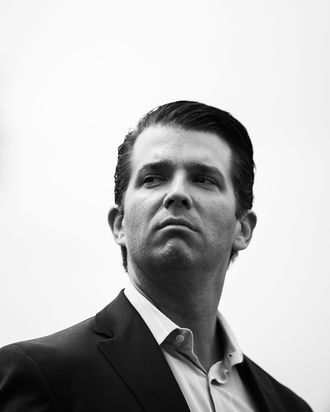 The eldest Trumpson.
Photo: Drew Angerer/Getty Images
With Father's Day soon upon us, let us take a moment to reflect on the relationship between one particular father-son pair: President Donald Trump and his eldest large adult son, Donald Trump Jr.
The new divorcé appeared on Fox & Friends to yuk it up this morning, before ending on a significantly bleaker note — Trump Jr. took the opportunity of being on one of his dad's favorite shows to wish him a happy birthday. (Yes, Trump is a Gemini. So is Mike Pence. I know.)
"Hopefully he's watching … I imagine he is," he started. "Happy birthday Dad, I love you very much. You're getting absolutely no presents because I figured five grandchildren is enough and what do you get the most powerful guy in the world?"
"Anything's gonna be a letdown," Trump Jr. continued. "We love you and I look forward to seeing you soon, because I don't get to see him that much anymore, that's the only problem."
Verdict's still out on whether this is sadder than the time he talked about his dad's D on the radio.