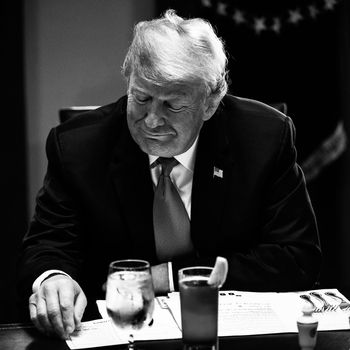 Donald Trump.
Photo: Al Drago-Pool/Getty Images
Supreme Court justice Anthony Kennedy, 81, announced his plans to retire on Wednesday, writing in a letter to President Trump that he will officially step down from his seat on the bench at the end of July. It was huge news for millions of Americans worried about what another Trump-appointed justice might mean for their rights, but not big enough news, apparently, for the president to remember the name of the guy stepping down.
In a press conference in the Oval Office, President Trump haltingly told reporters, "I have great respect for … Justice Anthony — you know who I'm talking about — Justice Kennedy."
He went on to prove that he knew who he was talking about by providing exactly three facts about Kennedy: 1) that he is a man, 2) that he is a justice of the Supreme Court, and 3) that he is retiring.
"He is a man that I've known for a long time, and that I've respected for a long time. He's been a great justice of the Supreme Court. He is a man who has displayed great vision, who has displayed tremendous vision, and tremendous heart. And he will be missed, but he will be retiring."
The president added that the search for a new justice will begin "immediately" and that "hopefully we're going to pick somebody who will be as outstanding."
Some of Trump's "outstanding" nominees include Judge Brett Kavanaugh, who was described in a New York Times op-ed during his nomination to the D.C. Court of Appeals in 2006 as "unqualified," and Judge Amy Coney Barrett, who has called Roe v. Wade "an erroneous decision."
Happy retirement to Justice … Kennedy, I wanna say? And best of luck to the rest of us here in the flames of Hell.