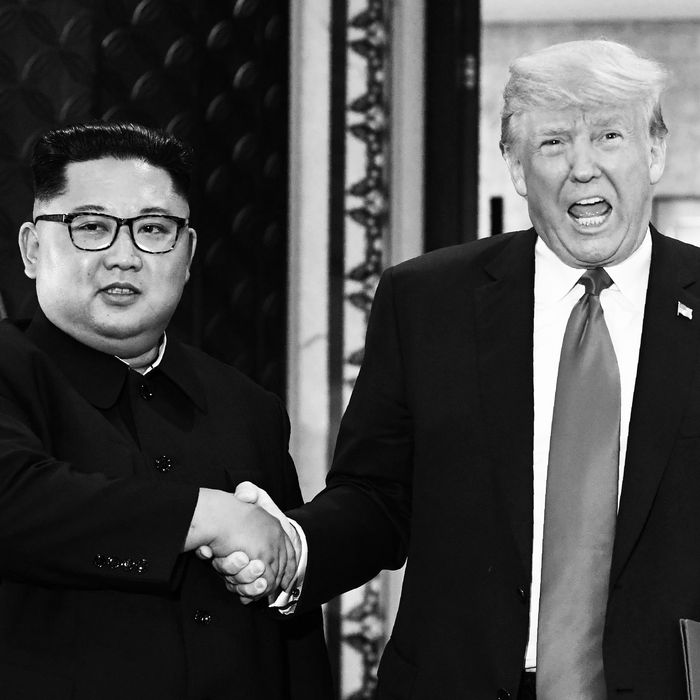 Kim Jong-un and Donald Trump.
Photo: Saul Loeb/AFP/Getty Images
This week, President Donald Trump and North Korean leader Kim Jong-un reached an agreement to … well … neither of them seem to agree on what exactly that entailed. But nevertheless, the mysterious agreement was reached at a historic meeting between the two — which Trump says took place because of his use of "rhetoric" (a.k.a. insults and rude tweets) in dealing with the North Korean dictator.
In a Tuesday interview with (who else) Fox News' Sean Hannity, Trump spoke of the Singapore summit with Kim. Per CNN:
"I think without the rhetoric we wouldn't have been here," Trump said. "I really believe that. You know, we did sanctions and all of the things that you would do. But I think without the rhetoric — other administrations, I don't want to get specific on that, but they had a policy of silence. If they said something very bad, something very threatening and horrible, just don't answer. That's not the answer, that's not what you have to do."
Of course, in September 2017, Trump threatened to "totally destroy" North Korea and referred to Kim as "Rocket Man" in a United Nations speech, which led to back-and-forth threats between the two countries. In response, North Korean foreign minister Ri Yong-ho also said that Trump's insult "committed an irreversible mistake of making our rockets' visit to the entire U.S. mainland inevitable all the more. And the insults between the two countries (including that time Kim called Trump a "mentally deranged U.S. dotard") just kept on coming for months to follow.
Speaking with Hannity on Tuesday, Trump said he "hated to do it" and occasionally "felt foolish doing it" but that he "had no choice" other than to exchange insults with Kim. Guess that's his tactic for dealing with everything.