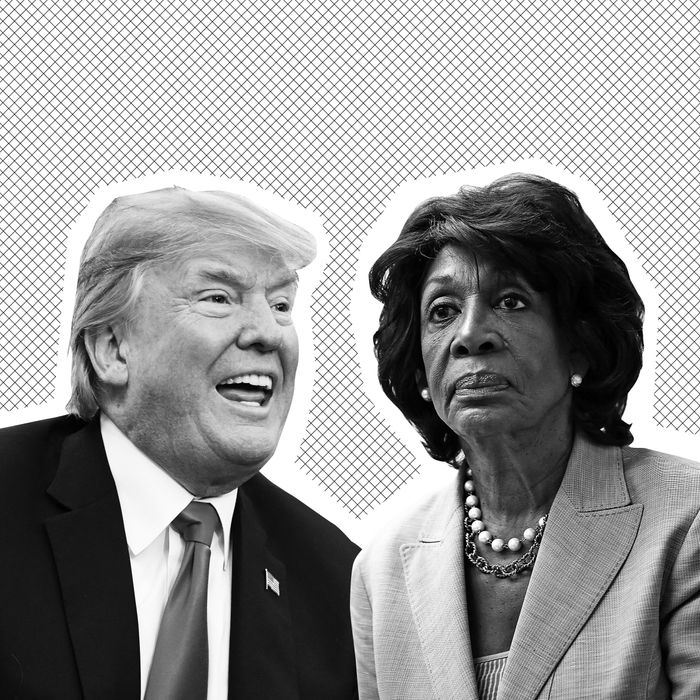 Donald Trump and Maxine Waters.
Photo: Getty Images
After a morning spent cyber-bullying small, rural eateries, President Trump tweeted a thinly veiled threat against California congresswoman Maxine Waters, calling her an "extraordinarily low IQ person" and hinting at potential violence from his supporters.
The president's tweet appears to be refer to Waters's remarks over the weekend, when she urged her supporters to harass members of the Trump administration they see in public.
"If you see anybody from that Cabinet in a restaurant, in a department store, at a gasoline station, you get out and you create a crowd and you push back on them, and you tell them they're not welcome anymore, anywhere," Waters told the assembled crowd at a rally in Los Angeles on Saturday.
In her speech, Waters did not call for supporters to inflict physical harm upon administration officials, or for them to harass Trump supporters (as opposed to the president, who has repeatedly encouraged violence against his opponents). But her comments have been widely denounced, including by her own party's leadership, with House Minority Leader Nancy Pelosi calling them "unacceptable."
Waters's comments came after several officials were heckled or asked leave restaurants because of their work within the administration. Last week, while having dinner at a Mexican restaurant in Washington, D.C., Department of Homeland Security secretary Kirstjen Nielsen was booed by a large crowd for her role in the administration's inhumane family-separation policy. A few days earlier, White House senior adviser Stephen Miller was reportedly called a "fascist" while he dined at another Mexican restaurant. And Friday, the owner of the Red Hen restaurant in Lexington, Virginia, asked White House press secretary Sarah Huckabee Sanders to leave her establishment.
Some have speculated that Waters will need to be assigned a security detail as a result of President Trump's tweet. Her vocal opposition of the president (she boycotted his inauguration, and has called for his impeachment) has made her a target before. Back in April, a 45-year-old man named Anthony Scott Lloyd pleaded guilty to threatening to kill the congresswoman after hearing her make disparaging comments about President Trump.
"If you continue to make threats toward the president, you're going to wind up dead, Maxine, 'cause we'll kill you," Lloyd said in a voicemail he left at Waters's Capitol Hill office.
The Cut has reached out to Waters for comment, and will continue to update this post with any new information.