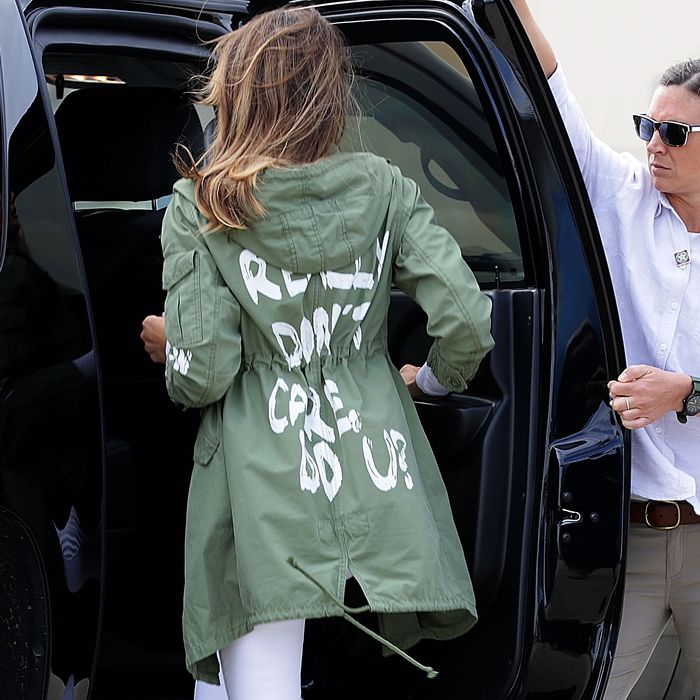 Melania Trump.
Photo: Chip Somodevilla/Getty Images
On Thursday, First Lady Melania Trump was photographed wearing an extremely tone-deaf jacket while en route to visit migrant children ripped from their families under President Trump's "zero tolerance" immigration policy.
For obvious reasons, her sartorial choice drew criticism on social media and in the press, where it was lambasted as callous and insensitive. Melania's camp quickly denied that she was trying to send a message with the large slogan printed on her back: "It's a jacket. There was no hidden message," a spokesperson said in a statement. "After today's important visit to Texas, I hope the media isn't going to choose to focus on her wardrobe."
A few hours later, President Trump directly contradicted this statement on Twitter, insisting that the jacket did in fact have message, and it was specifically for the media.
"'I REALLY DON'T CARE, DO U?' written on the back of Melania's jacket, refers to the Fake News Media," Trump tweeted, as is his style. "Melania has learned how dishonest they are, and she truly no longer cares!"
Apparently not, because she put the jacket back on after leaving Texas.