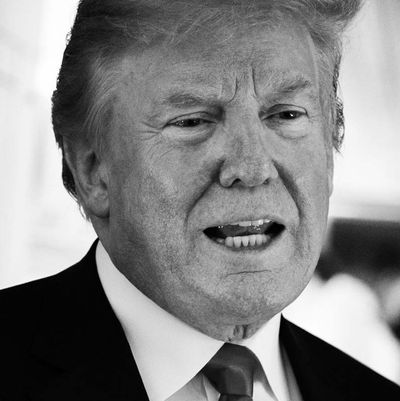 Donald Trump.
Photo: Saul Loeb/AFP/Getty Images
President Donald Trump has announced that he will be naming his choice for the Supreme Court on Monday, July 9. The president also said on Friday that he has narrowed his list of potential candidates down to at least five people, including two women, the Associated Press reports.
Trump's announcement comes only two days after Justice Anthony Kennedy revealed he would be retiring from the Supreme Court effective July 31. His departure puts women's reproductive rights in severe jeopardy; without Kennedy, the Supreme Court loses its swing vote in favor of abortion. Trump previously vowed to only nominate Supreme Court candidates who will work to overturn Roe v. Wade, the 1973 decision that legalized abortion in the country. But when asked on Friday whether he'll be asking potential candidates about abortion or Roe, Trump said, "That's not a question I'll be asking," adding he thinks that it's "inappropriate to discuss."
The president told reporters traveling with him on Air Force One to New Jersey that he plans to interview potential candidates starting on Monday, although he may meet with some in New Jersey over the weekend as well. "It's a great group of intellectual talent," he said of the candidates he's considering. Trump also said that he may end up interviewing up to seven possible candidates.
But we already have at least some clue as to who the possible candidates might be. Shortly after news of Kennedy's retirement broke, Trump said that he'd be looking to his prepared list of 25 candidates. The extremities of views of each person on Trump's list vary heavily, but the commonality is that each would almost certainly be detrimental to reproductive and LGBTQ rights. However, it's unclear which five of the 25 candidates he is most closely considering.