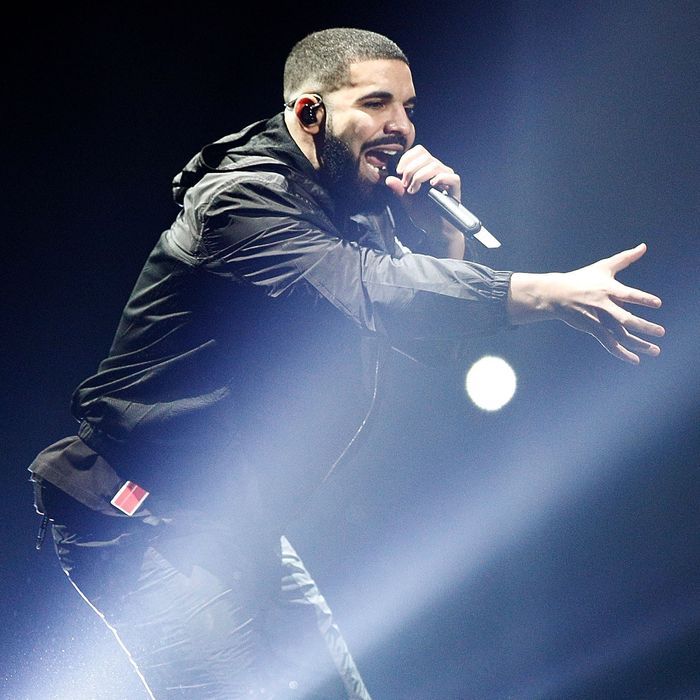 Drake.
Photo: Lagerhaus/WireImage
In the devastating diss track "The Story of Adidon" released back in May, Pusha-T accused Drake of hiding a secret son, a child allegedly named Adonis, whom he claimed the Canadian rapper was about to reveal to the world as a part of an Adidas collaboration. On his brand-new double album Scorpion, which dropped late Thursday night, Drake raps about trying to protect his son from internet rumors, single parenting, and finding out he was going to be a dad despite only meeting up with his child's mother "two times." All of which is to say, if Drake doesn't have a kid, this is one hell of a concept album.
"Look at the way we live / I wasn't hiding my kid from the world, I was hiding the world from my kid," Drake raps on "Emotionless." "From empty souls who just wake up and look to debate / until you staring at your seed, you can never relate." He continues, "Breaking news in my life, I don't run to the blogs / The only ones I wanna tell are the ones I can call / They always ask, 'Why let the story run if it's false?' / You know a wise man once said nothing at all."
Drake makes other references to his child throughout the album, but his experience of fatherhood is the focus of Scorpion's final track "March 14." Raps Drake, "Yesterday morning was crazy / I had to come to terms with the fact that it's not a maybe / That shit is in stone, sealed and signed / She's not my lover like Billie Jean, but the kid is mine / Sandi used to tell me all it takes is one time / Shit, we only met two times. Two times / And both times were nothing like the new times / Now it's rough times / I'm out here on front lines just tryna make sure that I see him sometimes." Continues Drake, "It's breaking my spirit / A single father, I hate when I hear it."
On "March 14," Drake also reveals his son's birthday (October 11, a number the rapper got tattooed in the boy's honor) and what seem to be custody issues with his child's mother. "I got a empty crib in my empty crib / I only met you one time, introduced you to Saint Nick / He must've brought you like 20 gifts / Your mother saying you growing so fast that they don't really fit but, man, you know / I still had to get it for my boy tho." Raps Drake, "Sorry, I'm venting trying to cover ground / They said in two weeks you're supposed to come to town / Hopefully by the time you hear this, your mother and I will have come around instead of always cutting each other down / God willing / I got a good feeling." You can stream the entire album on Apple Music now.