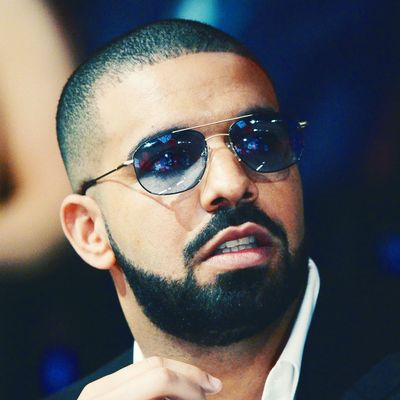 Drake.
Photo: Kevin Mazur/AMA2016/WireImage
Welp. Okay then! Drake is officially no longer "hiding a child." On his new album Scorpion, released at midnight on Friday, Drake confirmed that he does in fact have a son — just like Pusha-T said he did. Drake spends most of the 25 songs (25!!) discussing his baby boy in some way. On a previously released single from the album, "I'm Upset," Drake made some thinly veiled complaints about paying child support, but on Scorpion he's revealing a lot more: he has a baby, the baby was born on October 11, the baby was conceived on March 14 (a song, called "March 14th," alludes to his relationship with Sophie Brussaux, and fatherhood in general). "Ratchet Happy Birthday" could be written just for our birthday turn-ups, but it could also be the special song Drake will sing to his son every year from now on. Either way, Scorpion is Drake's ode to fatherhood, and here are all the references — coded or otherwise — he makes:
"Survival:"
"Daddy got suits like Bernie Mac, he dresses himself / I stopped askin' myself and I started feelin' myself."
"Emotionless:"
"I wasn't hiding my kid from the world, I was hiding the world from my kid / From empty souls who just wake up and look to debate / Until you staring at your seed, you could never relate."
"8 Out of 10:"
"It's not a matter of could I or should I / Kiss my son on the forehead, then kiss your ass goodbye / As luck would have it / I've settled into my role as the good guy."
"Mob Ties:"
"I'm not with the rah-rah, I am a da-da."
"Sandra's Rose:"
"Niggas see the crib and ask who did I steal from."
Finesse:
"I want my baby to have your eyes."
"Final Fantasy:"
Interlude: "Did somebody — who'd they say that baby look like? Drake!"
"March 14:"
"Yesterday morning was crazy / I had to come to terms with the fact that it's not a maybe / That shit is in stone, sealed and signed / She's not my lover like Billie Jean, but the kid is mine / Sandi used to tell me all it takes is one time / Shit, we only met two times. Two times / And both times were nothing like the new times / Now it's rough times/ I'm out here on front lines just tryna make sure that I see him sometimes. It's breaking my spirit / A single father, I hate when I hear it.
"I got a empty crib in my empty crib / I only met you one time, introduced you to Saint Nick / Nicki must've brought you like 20 gifts / Your mother saying you growing so fast that they don't really fit but, man, you know / I still had to get it for my boy tho.
"Fairy tales are saved for the bedtime stories I tell you now / I don't want you worry about whose house you live at / Or who loves you more, or who's not there / Who did what to who 'fore you got here / Now, look, I'm too proud to let that come between me and you now / Realize I got a thing for two now, I gotta make it, I better make it / I promise if I'm not there then I'm dedicated.
"You haven't met your grandfather, that nigga a trip / He probably coulda did stand-up / But at the same time he's a stand up / And that's how you gonna be when it's time to man up / October baby for irony sake, of course / I got this 11 tatted for somebody, now it's yours.
"They said that in two weeks you're supposed to come in town / Hopefully by the time you hear this me and your mother will have come around instead of always cutting each other down.
"God willing, I got a good feeling / You got a good spirit / We'll talk more when you hear this."