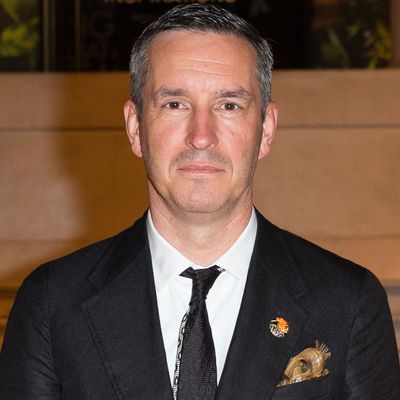 Dries Van Noten.
Photo: Richard Bord/Getty Images
Industry contrarian Dries Van Noten's eponymous label has been acquired by Puig, the same company that owns Carolina Herrera and Paco Rabanne.
It's not a surprising development for a brand to be acquired, but it is notable for Dries Van Noten specifically. The brainchild of one of the famed Antwerp Six designers was one of the few independent and successful labels. And Van Noten is also known for eschewing things like advertisements, which are standard fare for most luxury brands. As recently as March 2018, Van Noten had told GQ, "I'm very happy in the situation that we are and that we can take completely our own decisions, and for me that's very, very important."
The good news is that Van Noten will remain the chief creative officer and chairman of the board. According to Women's Wear Daily, which first reported that Dries Van Noten was looking for an investor, Van Noten will remain a "significant minority shareholder" over the long term. If there's any resulting loss, nostalgia, or statement to be made about the current state of the fashion industry, Van Noten will no doubt fold it into his next runway show.