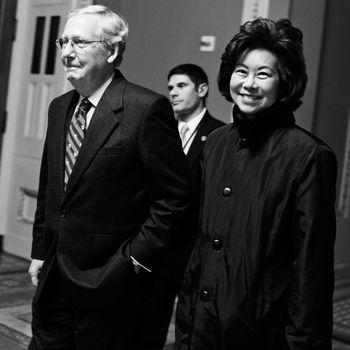 Mitch McConnell and Elaine Chao.
Photo: Tom Williams/CQ-Roll Call,Inc.
Did you know Transportation Secretary Elaine Chao is married to Senate Majority Leader and Master of Disguise Mitch McConnell? Well, she is, and she would very much like for you to leave her poor, lame husband alone please, thank you.
On Tuesday afternoon, a small group of protesters from Georgetown University confronted Chao and McConnell about the Trump administration's disastrous family-separation policy, walking up to their SUV and repeatedly demanding, "Why are you separating families?"
McConnell had already climbed into the car, but Chao turned on the protesters, shouting, "Why don't you leave my husband alone? Why don't you leave my husband alone?"
The protesters continued their questioning, with one man telling Chao, "I'm not trying to disrespect you, but why is he separating families?"
"He's not!" she shouted, telling the protesters to "leave him alone!" as she walked to the other side of the car.
The incident was caught on camera and posted online by Twitter user @Roberto62543651, whose bio says he is a Georgetown student, and by The Hill reporter Jesus Rodriguez.
The besieged McConnell has not said much about the short-lived family-separation policy. Prior to the president signing his misspelled executive order to imprison families together, McConnell told reporters that "all of the members of the Republican conference support a plan" to keep families together.
In any case, McConnell is probably happy his family has been kept together so his wife can help protect him from pesky college kids. After all, he doesn't seem to be the best at confrontation.