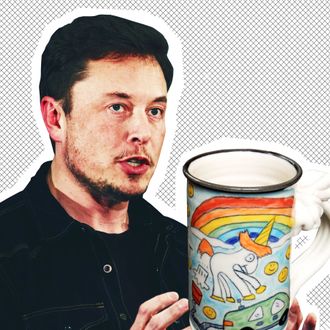 Elon Musk, the farting unicorn design in question.
Photo: Patrick T. Fallon/Bloomberg via Getty Images
It is with a heavy heart that I must report that Elon Musk — tech billionaire, union buster, and one half of Grusk — is embroiled in some internet drama that multiple sources have confirmed is both "extremely uncool" and "hella dumb."
According to The Guardian, it all began way back in February 2017 when Musk tweeted a photo of a mug featuring a farting unicorn. At the time, he called the piece by Colorado potter Tom Edwards "maybe my favorite mug ever."
Fast forward to a month later, when Musk tweeted an uncredited sketch of his version of the farting unicorn.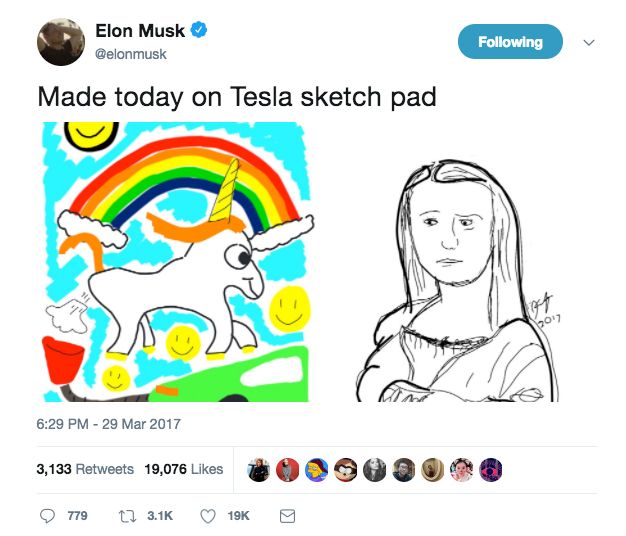 Not only that, Musk's company, Tesla, is using said farting unicorn image in their electric cars' operating systems, which is apparently what paying upward of $140,000 for a car gets you.
So Edwards's daughter, Robin — who goes by Lisa Prank on Twitter — confronted Musk about it on the social-media platform on Tuesday. "We can change it to something else if your Dad wants," he replied in a now-deleted tweet, per the BBC. She pushed back, asking for compensation and referring to a cease-and-desist sent by her father's lawyer.
"He can sue for money if he wants, but that's kinda lame," Musk, who is worth an estimated $20 billion, replied. "If anything, this attention increased his mug sales." He then blocked her.
"I realize my farting unicorn is not as serious as whistleblowers," Edwards told The Guardian. "but honestly, it's all about integrity."
Guess we can make that Elon Musk — tech billionaire, union buster, Grimes partner, and farting unicorn thief.