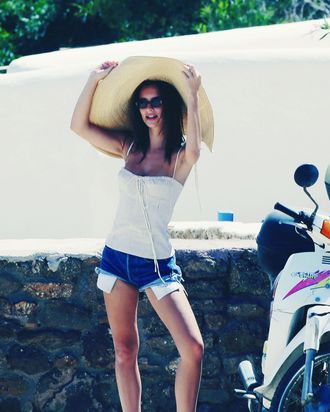 Emily Ratajkowski.
Photo: Alan/MEGA
Fashion can be a battle, but for some it's worth the price.
While traveling in Mykonos, Greece, this week, the brave supermodel Emily Ratajkowski waged a tête-à-tête with an enormous straw hat, which appears to have engulfed her during leisurely stroll with a friend.
"Emily Ratajkowski struggles to see in ridiculously oversized hat," read a Daily Mail headline yesterday on the subject. In a series of accompanying paparazzi photos, we do in fact see the supermodel struggling to tame the hat's brim. She uses both hands to wrangle it, and even enlists the help of her acquaintance when she alone cannot conquer its enormous tortilla-like circumference.
The hat resembles a popular one by Jacquemus, which we've always wanted to wear on the subway to piss people off. But now we know that oversized straw hats are not a joke. They should be worn with caution, and can be a serious hindrance to one's summer vibe.
Our thoughts are with Emily Ratajkowski, who we're pretty sure is fine.