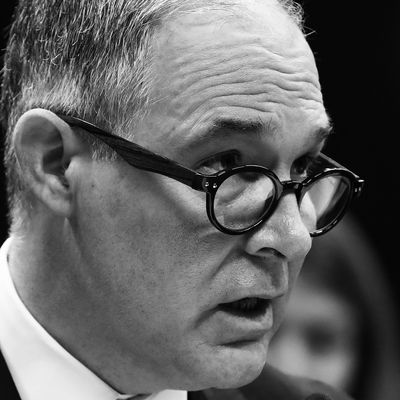 Scott Pruitt.
Photo: Mark Wilson/Getty Images
Environmental Protection Agency administrator Scott Pruitt may come under fire for his love of spending taxpayer money on fancy pens and expensive phone booths, but it turns out he might actually be quite frugal — at least, when it comes to mattresses. One of Pruitt's aides recently told congressional investigators that he asked for help purchasing a used mattress from the Trump International Hotel in Washington. How thrifty!
Pruitt, who spent $1,560 of taxpayer money on 12 pens from a place called the Tiny Jewel Box, had his director of scheduling and advance, Millan Hupp, complete a number of personal tasks, including asking Trump International Hotel how much it would cost for Pruitt to buy one of its used mattresses. The mattress in question was the "Trump Home Luxury Plush Euro Pillow Top" model.
Per the Washington Post:
 Hupp said that she recalled Pruitt "has spoken with someone at the Trump Hotel who had indicated there could be a mattress he could purchase, an old mattress he could purchase," and that the administrator "had expressed interest in securing a matter" to her. Hupp said that she did not recall what resulted from the inquiry, but asked to confirm that "it was not for use at EPA," she replied, "Not to my knowledge."
Apparently, Pruitt's quest for discount bedding was part of an attempt to cut back on his personal expenses since moving to D.C. from Tulsa, Oklahoma. The Post notes that he also reportedly asked his office to arrange work-related trips during one month so that he could either work from his Tulsa home or be on the road, while being able to not pay D.C. rent that month.
But despite his attempt to not spend much of his own money, Pruitt is currently the subject of an Oversight and Government Reform Committee probe into his spending on the job. For instance, he's currently facing scrutiny for traveling first-class, arranging to pay a D.C. lobbyist $50 a night to stay at her Capitol Hill condo for six months but only on nights that he slept there, his pricey official car, and of course, his $43,000 soundproof phone booth.
No word yet on why Pruitt was so jazzed about the Trump mattress in particular, but the now-president once tweeted that his "Trump Home Mattress Collection by Serta" was "really phenomenal."