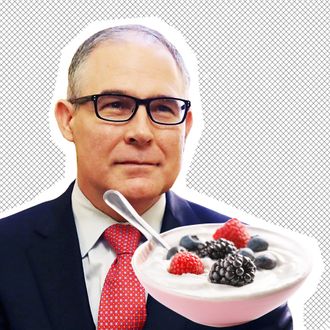 Environmental Protection Agency head and climate-change denier Scott Pruitt has already revealed himself to be a fancy little lotion boy and a fancy little pen boy. Now, sources say, he's also a fancy little snack boy who loves yogurt and other tasty yum yums.
Per the Daily Beast, aides reportedly were sent out to fetch him treats multiple times a week. Along with Greek yogurt, this is said to include protein bars, cookies, and other sweets. But a standard deli run won't do:
Pruitt's tastes in snacks are rather refined, according to former aides. He is particularly fond of finger food from the upscale eatery Dean & Deluca, according to a former EPA official. Pruitt is also particular about his coffee tastes, the former official said, and would often direct an aide to brew him pour-over coffee, which he prefers to more run-of-the-mill brewing methods.
Grifting requires constant energy, okay?