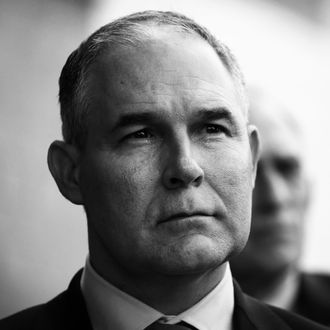 The fancy pen boy himself.
Photo: Scott Olson/Getty Images
Environmental Protect Agency head Scott Pruitt is inarguably one of the biggest grifters of the Trump Administration. He lives every day like he's put in his two weeks notice at a job he's completely checked out from — spending $43,000 on a phone booth, using taxpayer money to exclusively fly first class, being an actual climate change denier. So on one hand, it's not all that surprising to learn that he's also spent $1,560 of taxpayer money on pens. On the other hand, he spent $1,560 of taxpayer money on freaking pens.
While you may have guessed that Pruitt ended up with anywhere between 1,500 and 15,000 pens from this expenditure, you would be mistaken. Because Scott Pruitt spent $1,560 on a mere 12 fancy little pens. From a place called the Tiny Jewel Box.
Please let Ben Carson and Ryan Zinke know that this doesn't mean we've forgotten about the $31,000 dining set and the $139,000 door.