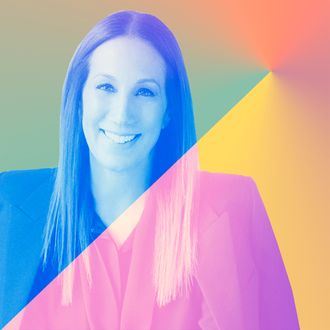 Jane Hertzmark Hudis grew up in Manhattan, the daughter of an insurance broker and a rug designer.
"My mother was vice-president at V'Soske, Inc, and she would bring home tufts of wool and teach me about color," remembers Hertzmark Hudis. "She taught me from an early age to see the differences in its intricacies — what was a blue-black, what was a blue-red and a red-blue. She taught me how to see."
Hertzmark Hudis graduated from Vassar College with an art history degree. She headed back to New York and worked for the legendary fashion publicist Fern Mallis. Three years later, she headed to Columbia to get her MBA.
"I majored in marketing, not finance, because I didn't like numbers for numbers' sake. I liked it as it related to a creative business challenge," explains Hertzmark Hudis. "Most of my classmates went to Wall Street, but I took a different path."
That path led her to Estée Lauder, where she joined the marketing team at Prescriptives, the makeup line that was the first to offer custom-made foundations as well as a vast range of shades in its existing line. Within a few months, the head of her department left and Hertzmark Hudis was handed the reins as a marketing manager at 26.
"I remember saying to my boss, 'You might think I know what I'm doing, but I'm clueless.' I had to teach myself everything, but I did. And I worked nonstop."
Leonard Lauder became a mentor early on, but one woman in particular stepped in to provide guidance to the young exec.
"Evelyn Lauder and I worked closely together on countless fragrance launches, and she became a confidante and a close friend," remembers Hertzmark Hudis. "She was very much a women's woman, and she was very empathic and helpful to me. She'd say, 'Jane, why don't you write Leonard a note and say so and so. Then he'll understand, and he'll say yes.'"
Mrs. Lauder also happened to possess impressive matchmaking skills. It was she who introduced Hertzmark Hudis to her husband of nearly 15 years, Cliff Hudis, former chief of breast medicine service at Memorial Sloan Kettering and currently CEO of the American Society of Clinical Oncology.
"I always say Estée Lauder is a family company." laughs Hertzmark Hudis. "Thanks to Evelyn, I married the most extraordinary person."
Hertzmark Hudis was promoted to group president of the Estée Lauder Companies in 2016. She oversees La Mer, Bobbi Brown, AERIN, Darphin, Origins, Aveda, and Bumble and bumble and the eponymous Estée Lauder brand. She also founded the Women's Employee Resource Group, which provides support and mentorships for women within the company.
"Things can be challenging in this world, and knowing how to find your voice and make a difference are all fabulous things," she says.
Hertzmark Hudis spoke with the Cut about her (other) favorite white linens, her distaste for black licorice and the room in her home that truly calms her.
Bather or showerer? Both. But I take a bath every night. Those baths at night are not a small thing. The day comes off. It transitions me. I use Jo Malone London Red Roses Bath Oil.
Preferred shower gel: AERIN Rose de Grasse Body Wash
What shade, if any, is usually on your toes and/or hands? Essie Skinny Dip.
What beauty look do you struggle with achieving? "I just woke up like this."
What do you splurge on? Aida Bicaj facials and gourmet food in my refrigerator. I love Fiji Water, Saratoga Sparkling Water, the lentil and chicken salad from EAT and Dorian's fresh lobster salad.
Bed linens of choice: Matouk crisp white sheets.
Towel brand of choice: Matouk white towels.
Purse (or daily carry-all) of choice: Birkin all the way. My favorite is a white leather and linen one that they don't make anymore.
Work shoe of choice: Manolo Blahnik pumps. I like the 90mm BB or Tuccio.
Casual shoe of choice: Manolo Blahnik flats.
Watch of choice: Cartier gold Tank Francaise.
Preferred fancy lingerie: Sabbia Rosa from Paris.
Preferred daily underwear: Cosabella.
Top item currently at the top of your fashion wish list: Anything Johanna Ortiz.
Fashion item you would never wear: Biker boots.
What phrase or word are you known for saying? "Do the thing that counts and then don't count it."
What drives you crazy? When people say 100 percent more than once in a 5-minute window.
Favorite smell? My husband
Least favorite smell? Anise, black licorice, root beer.
What do you think Pantone's color of 2018 should have been? Black.
Go-to Karoake song: "Stand by Me".
What do you wish you had invented? Netflix.
Describe your most starstruck moment: Meeting Michael Douglas after Fatal Attraction which was almost [a remake of] Fatal Attraction.
Who in your opinion is currently crushing it? Meghan Markle.
What or who in your formative years altered the path you were on? Linda Nochlin, my world-renowned art history professor at Vassar. A serious feminist who wrote the famous article "Why Have There Been No Great Women Artists?"
What are you working on mastering? Yoga.
What is your Achilles Heel? Watching people chew gum.
Favorite Instagram: @ClaridgesHotel — it's like taking a trip to London
Favorite meal and where: Hands down, baked potato and caviar at Caviar Kaspia in Paris.
Comfort food: Guacamole or carb loading on a huge bowl of pasta.
Comfort music: Sam Smith.
Most recently binged TV show: Billions.
Favorite spot in the entire world: Salines Beach in St. Barts.
What product in your domain is misunderstood and should be a best seller? Bobbi Brown Corrector. It covers anything, even dark circles, but looks like you've got nothing on. And it stays put all day long. It's a small pot you can take with you anywhere. Everyone I know who uses it feels the same way about it that I do.
What do you foresee as the top beauty trends in 2018? The emergence of skin care as wellness and self care. Skin care = self care. People are taking the time to take care of themselves.
If you won the Power Ball tomorrow, what are the first five things you would do? (after, of course, donating the majority of it to your top charities…)
1.   Empty my refrigerator
2.   Lock my apartment
3.  Pick up my parents, husband, and children
4.   Head off to an amazing trip around the world